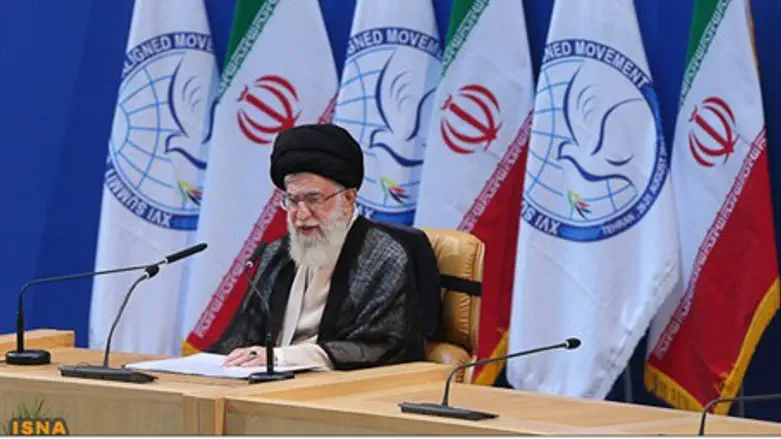 Iran's Supreme Leader Ayatollah Ali Khamenei
Reuters
In yet another outrageously anti-Semitic speech, Iranian Supreme Leader Ayatollah Ali Khamenei, speaking Thursday at the Non-Aligned Movement (NAM) summit, called Israelis "ferocious Zionist wolves who digest the Palestinian people."
United Nations Secretary-General Ban Ki-Moon, who decided to attend the summit in Iran despite a wave of protests calling on him to boycott the event, remained seated throughout the duration of the speech, refraining from showing opposition to the outwardly hateful remarks.
In comments made prior to the beginning of the summit, Ban said that he "strongly rejects threats by any member state to destroy another or outrageous attempts to deny historical facts such as the Holocaust," without explicitly mentioning Iran.
"Claiming that Israel does not have the right to exist or describing it in racist terms is not only wrong but undermines the very principle we all have pledged to uphold," Ban said.
Prime Minister Benjamin Netanyahu recently called the summit, which drew more than 120 countries to Iran, "a disgrace and a stain on humanity."
Amid backlash, the UN felt compelled to release a statement to the media Wednesday justifying the Ban Ki-moon's attendance at the international summit.
The "Secretary-General conveyed the clear concerns and expectations of the international community on the issues for which cooperation and progress are urgent for both regional stability and the welfare of the Iranian people," the statement read.
During his meeting with President Mahmoud Ahmadinejad, Ban Ki-moon "thanked" the Iranian leader for the invitation to the NAM Summit.
"On the nuclear question, the Secretary-General said he has been following closely Iran's talks with the P5+1," the statement said, referring to the five permanent members of the UN Security Council plus Germany. "He said he regretted that little tangible progress has been achieved so far during these intensive talks and that the talks needed to be serious and substantive."
"He said that Iran needed to take concrete steps to address the concerns of the International Atomic Energy Agency and prove to the world that its nuclear program is for peaceful purposes. He said that there is no alternative to peaceful, diplomatic and negotiated settlement which should be reached step by step and based on reciprocity," the statement continued.