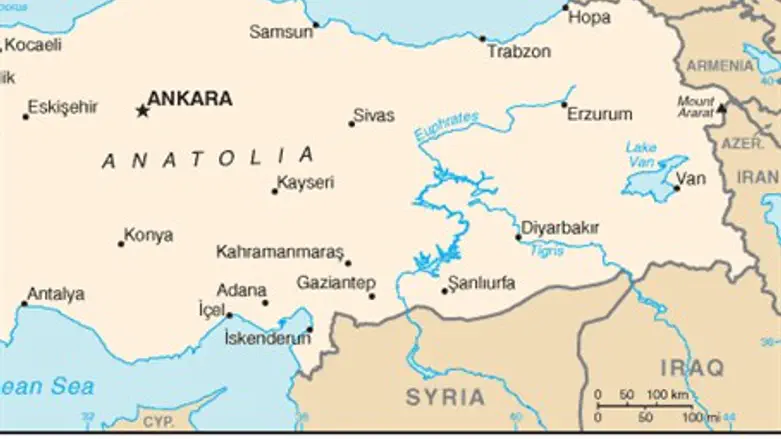 Map of Turkey
Israel news photo: courtesy of USGS
Intelligence officials in Turkey have discovered an Iranian spy ring in the country's eastern province of Igdir, bordering Iran.
A written statement issued by the office of the governor of the province announced Wednesday that police had arrested eight Turkish citizens in a sting operation on charges of spying for Iranian intelligence. The move came almost exactly one year after the arrest of a Turkish citizen and two Iranian nationals. All were carrying digital records with information on state security, officials said.
The two Iranians, identified by Turkish media as Shahram Zargham Kohei and Mohammed Reza Esmaeilpour Ali Malek, were charged with photographing in a restricted area of police stations, and strategic military buildings. Turkish media reported Wednesday that police found a photograph of the Igdir Provincial Gendarmerie Command building in a minibus in Igdir in 2011, in connection with the case.
The Iranian suspects are still being held in prison in Erzurum while their trial is pending. A Kalashnikov rifle, a shotgun, documents and secret correspondence between the two suspects and Iranian intelligence officials were also seized. In addition, there were records of phone conversations with terrorists from the Kurdistan Workers' Party (PKK) organization.
Iran's Revolutionary Guards have been operating in Syria for quite some time, supporting government forces as they battle rebel fighters in the savage civil war now entering its 18th month.
Turkey has absorbed nearly 80,000 Syrian refugees fleeing the carnage, and several times has urged Assad to either come to terms with the opposition or step down.
More recently, Turkey's diplomatic relations with Iran have also begun to deteriorate due to the Syrian civil war. According to Naharnet, Iranian Chief of General Staff Fruzabadi held Turkey, Saudi Arabia and Qatar responsible for the bloodshed in Syria, in a statement published earlier this month on the Revolutionary Guards' website.
In his statement, Fruzabadi threatened it would be Turkey's turn "next time" if Ankara did not stop supporting the Syrian opposition forces. "To help the war plans of the Great Satan (U.S.) is not a good principle to follow for neighboring countries," Fruzabadi said. "If they are acting on this basis, then they should know that the next time, it will be Turkey's and other countries' turn to take the fall," he warned.