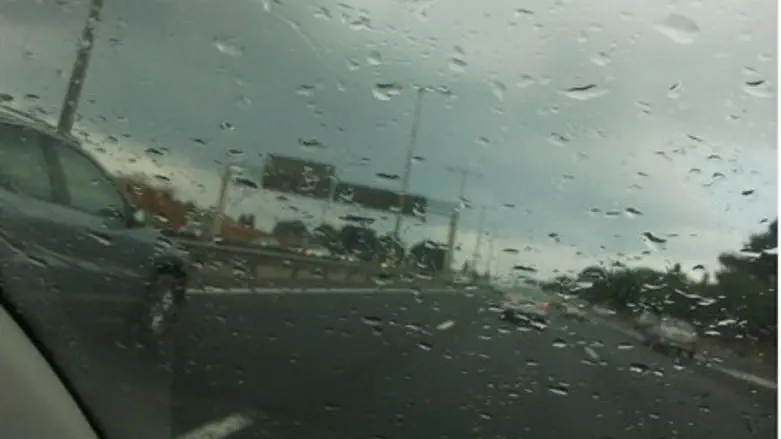 First rain
Benny Moshe
Northern coastal Israel experienced an extremely rare August event – a significant rain storm. Forecasters Wednesday night had said that there was the possibility of a small drizzle in the north, but Thursday morning's rain went far beyond the very light rainfall that occasionally happens during the summer months.
Residents reported steady rain that lasted for more than a half hour in several areas of the western Galilee, from Nahariya south to Akko (near Haifa), and many broke out umbrellas that have been collecting dust for months. Thunderclouds were reported off the coast, although no thunder or lightning was reported.
The rain could migrate south, forecasters said, with light rain affecting some parts of the coastal center of the country. Temperatures Thursday were slightly below normal for late August, and the weather in the center of the country was partly cloudy. The rain is being produced by a cold front that swooped down from Turkey, bringing somewhat cooler temperatures – and, of course, Thursday's rain – to Israel for most of the week. Summer, however, is hardly over; forecasters predicted rising temperatures on the weekend, with the heat returning in earnest by next week.
The Kinneret, in the eastern Galilee, was unaffected by Thursday's rain. The Kinneret has fallen 74.5 centimeters since last May, due to pumping and evaporation. The lake's current maximum level is 212 meters, 94 centimeters above the "upper red line," below which pumping water could be dangerous to the Kinneret. Earlier this week, Israeli officials said that by 2014, they expect to be able to provide nearly all Israeli households with up to 85% of their water usage from desalinated or recycled water sources.