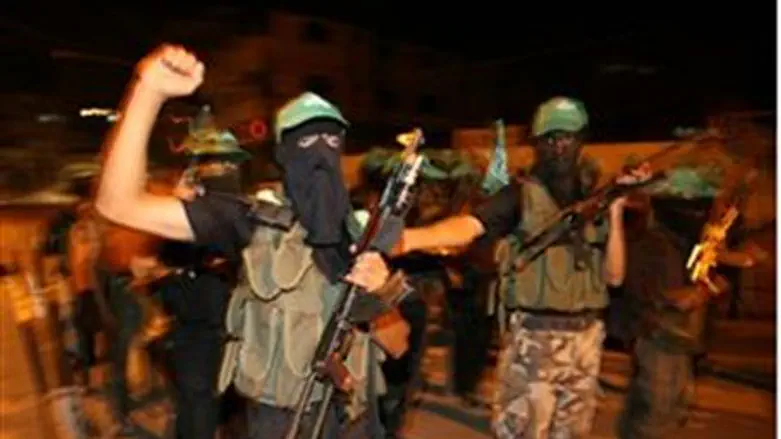 terrorists
Israel news photo: Flash 90
Germany did not even make a "minimal effort" to save the lives of 11 Israeli athletes massacred by Arab terrorists at the 1972 Olympics in Munich, according to Israeli government archives that were opened up after 40 years.
The documents include statement by then-Mossad director Tzvi Zamir, who returned from Munich after the massacre and told Prime Minister Golda Meir and senior ministers of apathy and lack of professionalism displayed by German authorities.
"They didn't make even a minimal effort to save lives, didn't take even a minimal risk to save people, neither theirs nor ours, Zamir said, adding that Germany's main interest was for the Olympics to continue.
After 40 years, the International Olympic Committee still refuses to hold a ceremony of one-minute of silence at the opening of the Games to remember the murder victims.
The documents from the archives were translated into English and sent to Germany.
Zamir said that Germany made little effort to catch the terrorists or even determine how many there were as they left the Olympic Village after the massacre.
Germany said afterwards that it was not possible to prevent the attack even if it had advanced information of an attempt to gun down Israeli athletes.
Information revealed earlier this week showed that German authorities ignored advance knowledge of terrorist plots at the Games.
Three of the terrorists who later were arrested also were released in a deal following hijacking of a Lufthansa plane, prompting Foreign Minister Abba Eban to say, "To some degree, it is as if this passes a death sentence on other Israelis."
Der Spiegelreported Tuesday that its government documents reveal that that Germany appeased terrorists, with whom there were secret contacts for years, even after the massacre.
Israeli Mossad agents killed three of the Palestine Liberation Organization (PLO) terrorists in a daring middle-of-the-night raid in Beirut.
However, the German ambassador to Lebanon said afterwards that the terrorists who were killed were among the most "rational and responsible" members of the PLO.  
During the six months between the massacre and the revenge attack in Beirut, German officials were conducting secret negotiations with the Munich Massacre masterminds to promote the PLO's desire for international PLO  recognition, according to Der Spiegel.
Nevertheless, PLO terrorists continued their terror and hijacked the Lufthansa flight after the Israeli raid in Beirut and secured the release of three Munich Massacre terrorists.