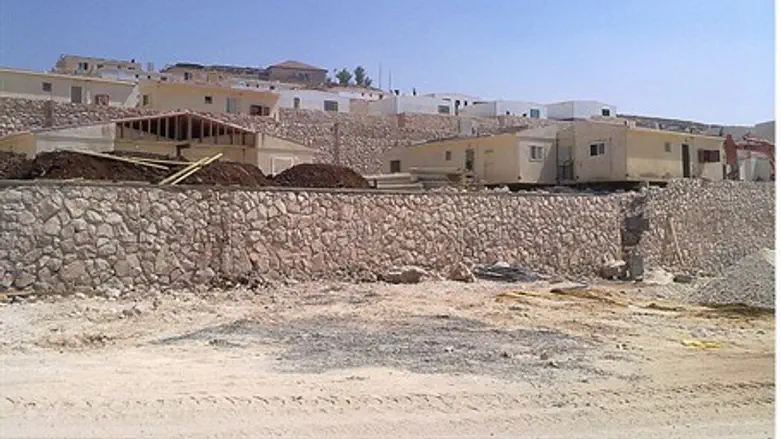 Givat HaYekev
Yishai Karov
Residents of the community of Migron in Binyamin filed a request with the Supreme Court on Monday, asking that their eviction be postponed until the caravan site in Givat HaYekev, where the residents are to live after their eviction, is completed.
The request was filed after the Mateh Binyamin Regional Council submitted an opinion to the Supreme Court stating that the site is not yet ready for occupancy due to safety hazards which still remain on the site.
The opinion, prepared by an engineering company, says that the buildings have yet to receive approval that they are fit to be inhabited, that electricity and water systems have yet to be installed, and that the surrounding roads have yet be completed.
The Mateh Binyamin Regional Council submitted the opinion to the President of the Supreme Court, Asher Grunis, thereby asking that the eviction of residents who did not buy their property from Arabs be postponed as well.
Meanwhile, the Supreme Court is scheduled to discuss on Tuesday an appeal by some residents of Migron against their eviction. The residents who appealed to the Court asked that their expulsion from the community be cancelled, following the purchase of most of the land by an American philanthropist.
On Sunday, Minister of Strategic Affairs Moshe Yaalon gave residents of Migron a choice: leave their homes willingly, or fight eviction and risk homelessness. Yaalon argued that only families that cooperate with eviction should be allowed to use caravans in the Givat HaYekev site.
Migron residents, who have heard similar warnings from the IDF, declared Sunday that they will not give in to threats.
Yaalon's statements were made in a meeting of Likud ministers held just two days before the original deadline for Migron eviction. He argued that the original deadline should still stand, despite the appeal by those residents who purchased the land. The lawsuit pertains to those families alone, he stated, and therefore only those families should be allowed to delay eviction until the Supreme Court issues a verdict.