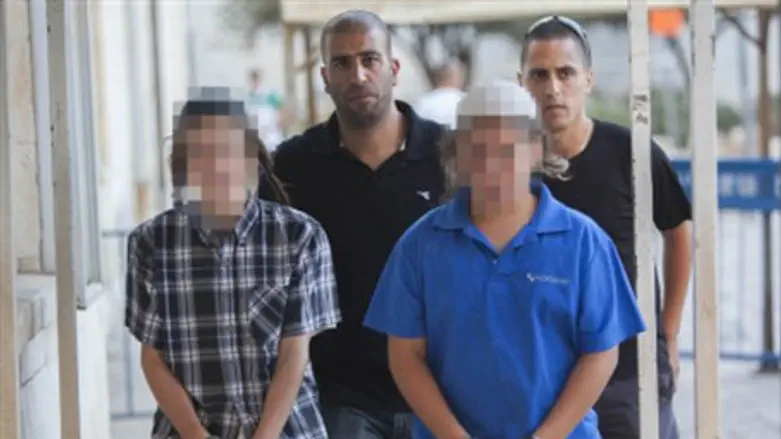 Two of the suspects in handcuffs
Israel news photo: Flash 90
Judea and Samaria police arrested three Jewish youths Sunday on suspicion of throwing a fire bomb at an Arab taxi 10 days ago. The suspects are residents of the Etzion Bloc community of Bat Ayin, aged just 12 and 13, according to Jewish nationalist prisoners' rights group Honenu. 
Six people were injured in the attack, two of them seriously. The taxi was carrying a family of five.
They were brought before a judge in the Jerusalem Magistrates' Court, who decided to extend their remand overnight. The court will decide what next to do with them in the morning.
Honenu reported last week that Shin Bet and special Yasam police forces entered the homes of several Bat Ayin residents on the night after the firebomb attack, but arrested no one that night. They reportedly went to the homes of three teenage boys ages 13-14 and issued stern warnings to the teens, telling them, "We know what you're doing." 
Last week, a youth from Bat Ayin was arrested and freed several hours later. The youth and his parents said that he was suspected of throwing the firebomb.
Etzion bloc residents noted that the site of the attack is one where Arabs often attack Jewish vehicles with rocks and firebombs, and said the assumption that the attackers were Jews is unjustified. Other observers noted that taxis serving Palestinian Authority Arabs are painted a distinctive yellow and that it is unlikely an Arab terrorist would have mistaken the taxi for a vehicle carrying Jews. 
The wounded Arab woman said she saw a Jewish attacker with a kippah and sidelocks.