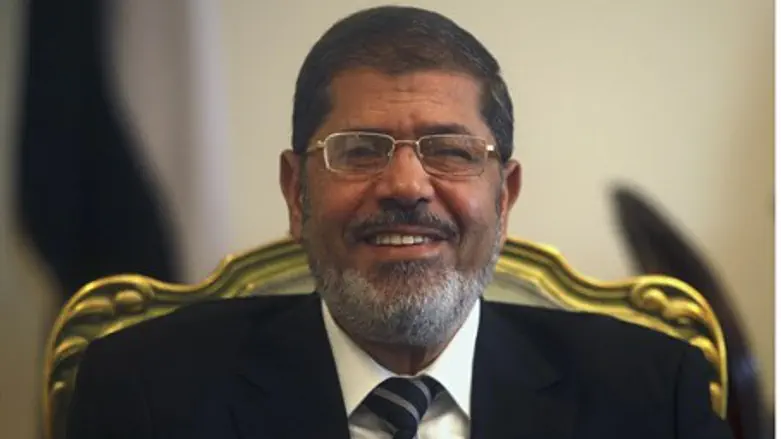 Mohammed Morsi
Reuters
Egypt and Iran won't be reinstating normal diplomatic relations any time soon, presidential spokesperson Yasser Ali told the London-based Asharq Al-Awsat on Friday.
The statement comes in the wake of Egyptian President Mohammed Morsi's visit to Tehran this month, after a 32-year break in ties between the two Muslim countries.
Morsi plans to attend the Non-Aligned Movement meeting on August 30. Egypt currently heads the Movement, and Iran will take over the rotating presidency at the conference.
The visit has raised concerns that Morsi, a member of the Muslim Brotherhood, will form an alliance with the regime in Tehran.
Ali told Asharq Al-Awsat, however, that Morsi's visit to Tehran for the Non-Alignment Summit is protocol, not a sign of changing diplomacy.
Ali added that Morsi made his position clear when discussing the situation in Syria at the summit of Muslim leaders held earlier this month in Mecca, which was attended by Iranian President Mahmoud Ahmadinejad.
At the summit, Morsi suggested forming a contact group between Egypt, Saudi Arabia, Iran and Turkey to tackle the crisis in Syria. However, Morsi would not support military intervention in Syria.
"Egypt rejects that the Syrian regime remains in power at the expense of its people, but at the same time does not accept any military intervention," Ali told Asharq Al-Aswat.
Cairo and Tehran broke off relations after the overthrow of the Shah in the Islamic Revolution and Egypt's recognition of Israel in 1979.
Iran's Foreign Minister, Ali Akbar Salehi, told Egypt's Al-Ahram newspaper this week he hopes Egypt and Iran would restore normal ties.
Salehi described Egypt as a "cornerstone" of the region and a state that enjoys a distinctive status among Arab and Islamic countries. He voiced his optimism for the future of the Islamic World despite the recent developments and crises in the Middle East and North Africa.
(Arutz Sheva's North American Desk is keeping you updated until the start of Shabbat in New York. The time posted automatically on all Arutz Sheva articles, however, is Israeli time.)