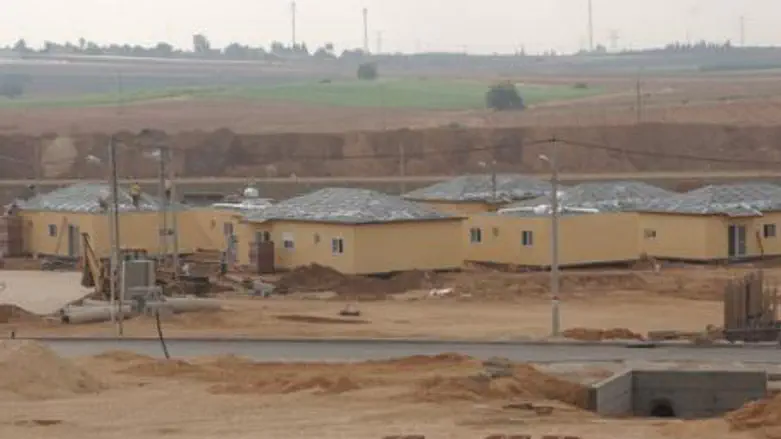 Temporary expellee housing
Israel news photo: Flash 90
MKs from across the political spectrum are protesting a government decision that would require Israelis expelled from Gush Katif in 2005 to pay rent for use of their mobile homes. Families were given the homes as a temporary replacement for their homes in Gaza.

Officials in the Tenufa administration, tasked with rehousing the expellees, argue that the rent demand is a legitimate way to push families to obtain permanent housing. Those who cannot afford to build homes may take advantage of government loans and other programs, they say.

Expellees say the move punishes the weak, and will just leave families further from their goal of rebuilding.

Eliyahu Nissim of central Israel decided to take action on the families' behalf and turned to Members of Knesset asking them to support the cancellation of the rent demand.

Among those who came forward to support the expellees were proponents of the 2005 Disengagement. MK Zahava Galon of the left-wing Meretz party declared, "I certainly do not see it fit to charge 'rent' for staying in a caravan, when no other appropriate housing was found for them."

MK Yitzchak Herzog of Labor said he opposes the measure as well, as did MK Eitan Cabel (Labor).

Knesset Speaker Reuven Rivlin pledged to "do whatever I can to get this decision rescinded immediately."

"Of course I'm extremely against this," said MK Tzipi Hotovely (Likud). "It's unthinkable." Fellow Likud MK Ayoub Kara was also firm in his response, saying, "I am ashamed and appalled to hear of the intention to charge rent from Gush Katif expellees… This is an outrage."

The decision just shows yet again that the 2005 government was not telling the truth when it said it was prepared to rehouse the residents of Gush Katif and northern Samaria, he added.

Others who have expressed opposition include MKs Ofir Akunis (Likud), Danny Danon (Likud), Leah Nass (Likud), Michael Ben-Ari (National Union), Yaakov Katz (National Union), and Yariv Levine (Likud).