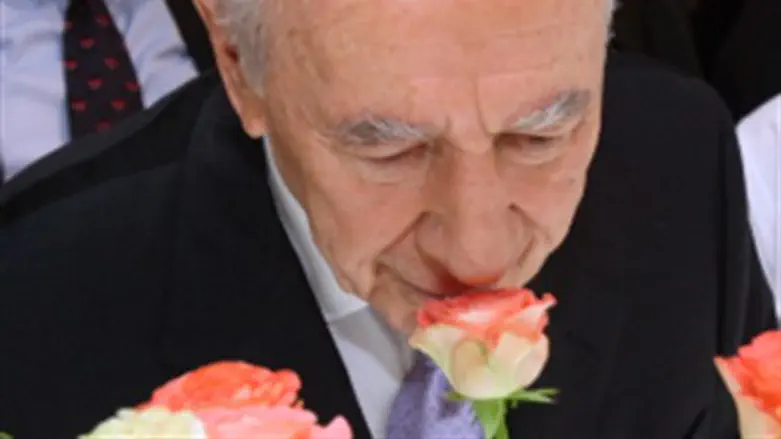 Peres: everything is rosy
Flash 90
President Shimon Peres is under attack for undercutting the elected government's stance on the Iranian threat. Besides stating a position that runs counter to the Prime Minister's in a television interview, he is also reported to have accused Netanyahu and Defense Minister Ehud Barak, in closed conversations, of "terrible irresponsibility" in the Iranian matter.
"The honorable president has apparently also been sucked into this unnecessary argument that is damaging for the state of Israel," said MK Moshe Matalon of Yisrael Beytenu.
"As a former prime minister and defense minister, and a person who was privy to spectacular operations that were also controversial and were decided by the political tier, the president needs to show the proper sensitivity," Matalon added.
"In a democracy and a parliamentary regime, the authority and responsibility rest with the executive branch and its head, the prime minister," Matalon continued. "For this reason, the president should demand that the flames of this searing debate be lowered."
Sources close to Prime Minister Binyamin Netanyahu were quoted in two news outlets as saying that "Peres forgot what the role of a president in the state of Israel is."
"Peres forgot that he, too, made at least three cardinal mistakes regarding state security," the sources added. The first mistake, they said, was the Oslo Accord that he thought would create a new Middle East and instead led to more than 1,000 Israel deaths from terror attacks that emanated from the territory he gave the Arabs.
The second mistake, the sources said, was his support for the 2005 Gaza "Disengagement," which he thought would lead to peace and resulted in rocket attacks on southern Israel. His worst miscalculation, they said, was his objection to the 1981 attack on the Iraqi nuclear plant.