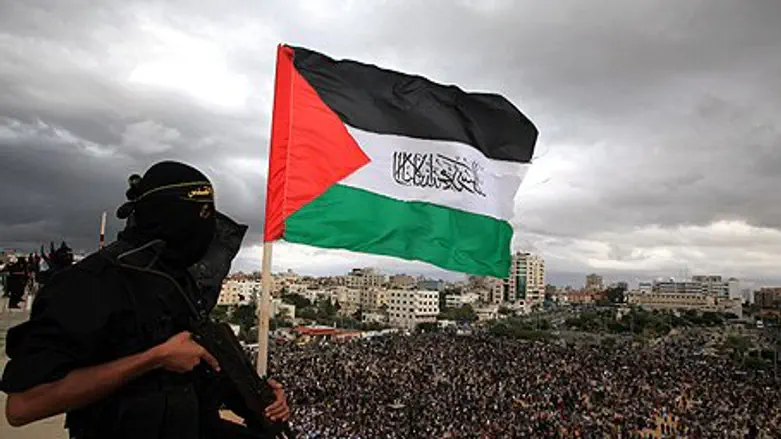 'Jihad' terrorist
Israel news sphoto: Flash 90
International terrorist groups with roots in Libya, Sudan and Iraq are working to take over the Sinai Peninsula, according to a report from the Meir Amit Intelligence and Terrorism Information Center. Efforts to turn the region into a major launching point for attacks are being encouraged by Al-Qaeda head Ayman al-Zawahiri, it stated.

The report noted a recent attack near the border as evidence of terrorists' attempts to take advantage of the anarchy and growing anger in Sinai.

Gaza terrorist groups are heavily involved, it noted. "Palestinian terrorist groups active in the Gaza strip are accessible to local Bedouin organizations in Sinai which affiliate themselves with the global jihad, and have both financial and ideological motives."

Hamas generally attempts to force international jihad terror groups, including "rebel" groups in Gaza, into following its relatively restrained approach to terrorism, the authors said. Hamas has occasionally declared ceasefires with Israel, apparently fearing a repeat of the Cast Lead counterterror operation of 2008-2009.
However, they continued, Hamas leaders are happy to see other groups carry out attacks with no "address" – that is, with no single known terrorist group behind them.

Such attacks have included rocket attacks, attacks on Israelis near the border, and weapons smuggling from Sinai to Israel.

"Hamas and other organizations are careful to hide this type of activity, and sometimes even to deny it, in order to avoid exposing themselves to an Israeli response," they noted. In addition, the groups seek to avoid "complicating their relationships with Egypt, particularly in the era after the election of Mohammed Morsi as Egyptian president."