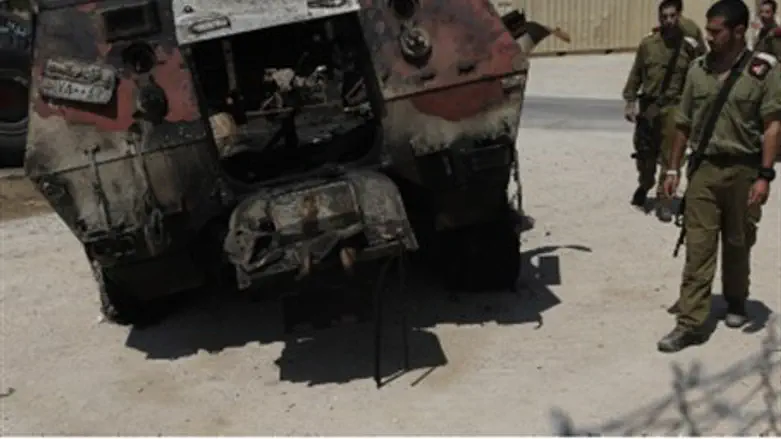 Wreckage of APC from terror attack.
Israel news photo: Flash 90
New details were revealed Monday about last week's terror attack in the Sinai Peninsula, in which 16 Egyptian officers were killed and seven were wounded. Among the details published by the Bawaba al-Ahram website were also the names of some of the terrorists who carried out the attack.
The report identified the following terrorists: Hatem A, 37, from Cairo; Yihya A., 19, from Gharbia; Mohammed M., 30, from Sinai; Mohammed A S. from Gharbia; and Mohammed M., who reportedly has Palestinian Authority citizenship.
An investigation into the attack by Egyptian intelligence revealed that Hatem A. came to Al-Arish about two months ago and bought farmland from one of the tribes in the Sinai. Hatem would arrive in the area often and resided in a tent he erected on the land he bought.
Residents in the area said, according to the Bawaba al-Ahram report, that Hatem would come to the area with other people who were driving in a modern SUV and riding a motorcycle. They observed that there was a correlation between his arrivals and the constant attacks that have been carried out on the pipeline which carries natural gas to Israel and Jordan.
Hatem's activities seemed suspicious to local residents and led them to report Hatem to Egyptian intelligence. The report said that intelligence officials arrived in the Sinai a few days ago and conducted a thorough investigation. Local residents also said that Egyptian army forces arrived in a village located in the northern Sinai in recent days, where they encountered fire from terrorists. After the terrorists were killed in an exchange of fire, the soldiers found five anti-aircraft missiles, five mines, mortar shells, materials meant to produce explosives and a large amount of ammunition.
A report last week indicated that the terror group Army of Islam is behind last Sunday's terror attack in the Sinai Peninsula. Army of Islam is an Al-Qaeda inspired Gaza-based terrorist group that wishes to see Gaza run by Muslim Sharia law.
Egypt has launched a crackdown on Sinai terrorism in response to the attack and violence has escalated in the region. On Monday, a group of armed men shot dead a tribal leader and his son on the border with Israel.
On Sunday, in a move that surprised both Israel and the United States, Egyptian President Mohammed Morsi fired the leadership of the country's defense establishment.