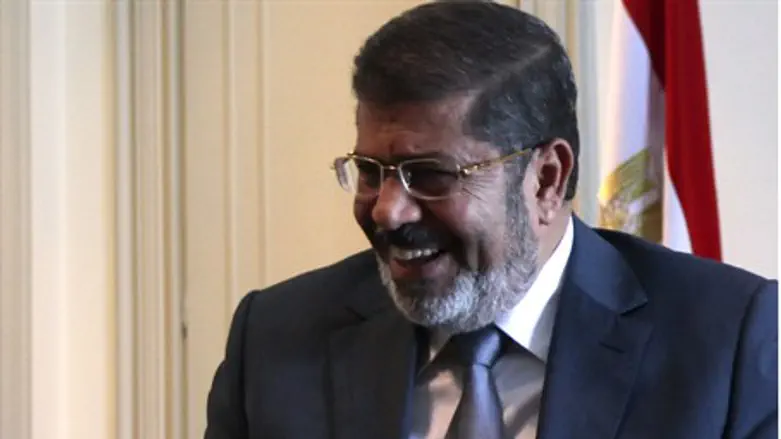 Mohamed Morsi
Israel news photo: Flash 90
U.S. officials were surprised by Egyptian President Mohammed Morsi's decision to fire the leadership of the country's defense establishment but appear to have confidence in the new defense minister, Washington Post columnist David Ignatius wrote on Sunday.
Ignatius noted that the new defense minister, Gen. Abdel Fattah al-Sissi, had extensive contact with the United States in his previous post as head of military intelligence.
Ignatius also wrote that U.S. officials weren't ringing alarm bells over Morsi's decision Sunday night, cautioning that this is in part a generational change, replacing figures who had become increasingly unpopular and isolated in post-revolutionary Egypt.
U.S. officials specifically discounted rumors that were circulating on Sunday that Sissi is an Islamist with secret connections to the Muslim Brotherhood. According to Ignatius, officials say Sissi is well known to the U.S. military after spending a year of professional training in the United States and was regarded as a generally effective head of military intelligence.
"What's indisputable is that the Muslim Brotherhood, of which Morsi is a longtime member, has now tightened its grip on Egypt, controlling the military as well as the presidency and the parliament," wrote Ignatius. "That's either an example of democracy in action and civilian control of the military, or a Muslim Brotherhood putsch, depending on your viewpoint. It probably has elements of both."
The U.S. view, he added, is that the replacement of aging top military leaders, in itself, isn't worrying. "But they would be concerned if Morsi moved to make changes in Egypt's judiciary, which has been an important independent center of power since the Tahrir Square revolution that deposed [former President Hosni] Mubarak in February 2011," wrote Ignatius. "Worries about the judiciary were prompted by another Morsi move Sunday — to appoint senior judge Mahmoud Mekki as vice president. The fear is that Mekki, as a former jurist, might reject rulings by the courts."
U.S. officials do not appear to have evidence that Mori's purge was planned or debated by top leadership of the Muslim Brotherhood, he added.
"Instead, Morsi used the terrorist attack in Sinai last week that killed 16 Egyptian soldiers as an excuse for installing new leadership in the military," wrote Ignatius. "The first key change was Thursday's firing of the intelligence chief, Gen. Murad Muwafi, who had won praise from U.S., Israeli and European officials — in part because he had been pressing for months for a crackdown against terrorist groups taking root in the Sinai."
Israel was surprised by Morsi's decision, according to a Channel 10 News report, which said that Israeli officials believe that despite the latest developments, it is unlikely that a dramatic turnaround in terms of the Egyptian attitude to Israel will be seen in the near future.
Political officials in Israel were quoted as having warned that if the new appointments do not work together with Israel, the Jewish State will have to start and operate on its own in Sinai to thwart terrorism.
In a speech Sunday night, Morsi said that his decision was not directed at individuals or intended to embarrass institutions.
"I did not mean to send a negative message about anyone, but my aim was the benefit of this nation and its people," he said.