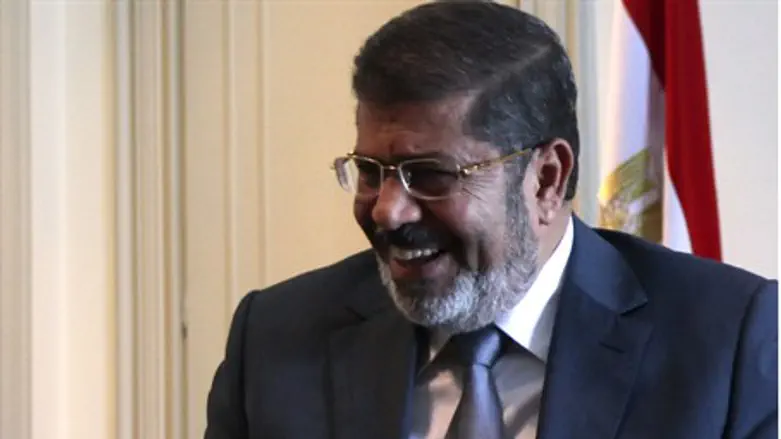 Mohammed Morsi
Flash 90
Israel was surprised by Egyptian President Mohammed Morsi's decision on Sunday to sack the entire leadership of the country's defense establishment.
According to a Channel 10 News report, no one in Israel had anticipated that Morsi would choose to make such a dramatic move as a result of last week's terror attack in Sinai which killed 16 Egyptian officers.
The report said that Israeli officials believe that despite the latest developments, it is unlikely that a dramatic turnaround in terms of the Egyptian attitude to Israel will be seen in the near future, but that it can be assumed that Morsi's new appointments will be much more careful to demonstrate any intimacy toward Israel.
Channel 10 also quoted political officials as having warned that if the new appointments do not work together with Israel, the Jewish State will have to start and operate on its own in Sinai to thwart terrorism.
Among the officials and officers fired by Morsi on Sunday are Defense Minister Mohamed Hussein Tantawi, and Chief of Staff Sami Anan.
Morsi appointed Abdul-Fatah al-Sessi as Defense Minister and Lieutenant-General Sidki Sayed Ahmed as Army Chief of Staff. A judge named Mahmoud Mekki was appointed vice president. Morsi also ordered the retirement of the commanders of the navy, air defense and air force. The retired navy commander, Lieutenant-General Mohan Mameesh, was named as chairman of the Suez Canal.
He also cancelled all constitutional changes that gave the military enlarged powers.
Last week, Morsi fired the Head of General Intelligence, General Morad Mu'afi, following the Sinai terror attack in which 16 policemen were killed. Egyptian news sources also said that Morsi had sacked the governor of Sinai.
The Muslim Brotherhood's Morsi appears to be wasting no time in consolidating his hold over power at the expense of the military, which many hoped would be a moderating power over him.
The peace treaty between Israel and Egypt forbids military deployment in Sinai. Last week, however, Israel gave its approval for a temporary deployment in order to crack down on the terrorist infrastructure there.