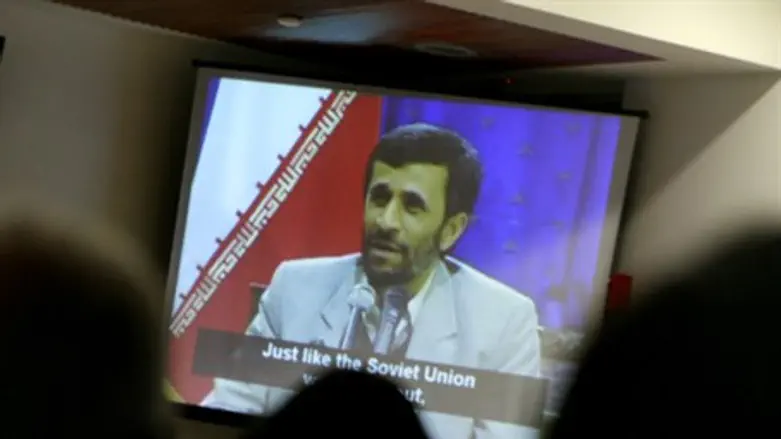 Iranian President Mahmoud Ahmadinejad
Israel news photo: Flash 90
White House spokesman Jay Carney sought to reassure Israel on Friday when he said in a press briefing that the U.S. has real-time information on the Iranian nuclear program.
"We have 'eyes' inside the nuclear facilities and we will know in real time when and if Iran decides to cross the threshold and develop nuclear weapons," Carney said, according to a report by Channel 10 News.
Carney's remarks were made in response to recent assessments in Israel, especially those of Defense Minister Ehud Barak, according to which the Americans understand that the Iranian threat is becoming an increased concern.
"The president remains committed to preventing Iran from obtaining nuclear weapons," he was quoted as having said.
"We are leading an international move to enforce the sanctions, which even the president of Iran has called the most severe sanctions ever imposed on a country," Carney continued. "Hardly a week goes by in which we do not worsen the sanctions."
He reiterated that Israel and the U.S. are coordinated on the Iranian nuclear issue, saying, "We share Israel's concerns. That's why we are directing this concentrated and unprecedented effort to cause the regime in Tehran to change its behavior."
A report in Ha'aretz on Thursday, citing American officials, said that a new U.S. report indicates that Iran has made a great deal of progress in its nuclear program in recent months.
According to the report, President Barack Obama has seen the National Intelligence Estimate (NIE) report, prepared by U.S. government intelligence groups.
The United States Congress recently passed a new package of sanctions against Iran. The sanctions aim to punish banks, insurance companies and shippers that help Tehran sell its oil.
A day earlier, President Barack Obama announced U.S. sanctions against foreign banks that help Iran sell its oil, specifically citing China's Bank of Kunlun and an Iraqi bank.
Former Secretary of Defense Donald Rumsfeld told Fox News this week that Prime Minister Binyamin Netanyahu is totally correct that sanctions will not stop Iran's drive for nuclear capability, and Israel would not have to advise the United States of any plans to attack Iran.
"I think the prime minister of Israel, Netanyahu, is probably correct. Their intelligence on Iran is excellent. Sanctions tend not to work very well over a long period of time, and they do have the effect, tending to damage and hurt the people, as opposed to the governments," said the former Cabinet officer in the Bush administration.
(Arutz Sheva's North American Desk is keeping you updated until the start of Shabbat in New York. The time posted automatically on all Arutz Sheva articles, however, is Israeli time.)