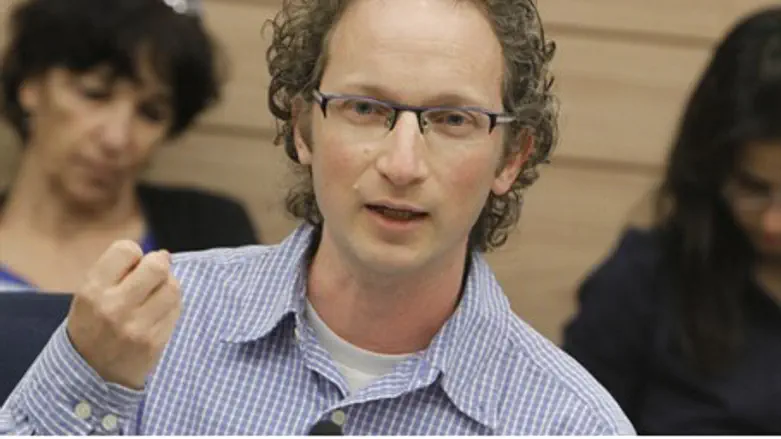 Adar Cohen
Israel news photo: Flash 90
Adar Cohen, the superintendent of civics education in the Education Ministry who was informed on Sunday that he will not receive tenure and will have to leave his job, on Tuesday gave the Ministry an ultimatum, demanding that he be reinstated.
Education Ministry Director Dalit Shtauber told Cohen, who was still officially on trial period, that he has failed the trial and therefore will not receive tenure. The latest decision means he will have to leave the job.
The decision to rethink Cohen's employment appears to have been influenced by an investigative report published in the Hebrew paper Makor Rishon and which said that Cohen is suspected of promoting "post-Zionist" textbooks into the Education Ministry syllabus and preventing the entry of textbooks that reflect accepted, traditional Zionist views.
According to a Channel 10 News report on Tuesday, the lawyer of the teachers' union, which represents Cohen, sent Shtauber a letter on Cohen's behalf in which he asks to return to his position and even sets an ultimatum. "You are asked to announce the cancellation of the faulty and improper dismissal procedure ​​within 48 hours," the letter read.
Cohen claimed in the letter he was not given any opportunity to be heard and present the full picture before the decision was made to fire him. He also accused Shtauber of giving various interviews to the media in which she slandered him. According to Cohen, Shtauber behaved recklessly and irresponsibly when it came to the issue of his dismissal.
After he was dismissed, Cohen sent a farewell letter to civics teachers in which he claimed to have been the target of a smear campaign.
The Education Ministry told Channel 10 in response that the decision to fire Cohen was made after a lengthy and professional process. The Ministry added that Cohen has been replaced with a temporary replacement until a decision on a permanent appointment is made.
The Yisrael Hayom newspaper quoted passages from the textbook approved by Cohen that reflect the alleged "post-Zionist" approach. In one passage, the book says that there is a contradiction between Israel's definition as a Jewish state and its obligation to give equal rights to all of its citizens. The book also says that "The establishment of Israel in 1948 turned the Arabs in the territory of Palestine-Israel from a majority into a minority."
It reportedly states elsewhere: "A relationship based on control could harm the freedom and equality of those who do not belong to the majority. This is especially true when the majority espouses a selective demographic policy, which entrenches its status over time."
This passage is seen as critical of Israel's Law of Return.
The controversial Yotzim L'derech Ezrachit" (On the Road to Civics) approved textbook says: "The Right is generally more cynical, and supports military solutions as important to national security. The Left is generally more humane, and believes in negotiations as the best way to solve conflicts."
At another point, the book discusses the Nakba Law, which blocks state funding for groups that mourn the creation of the state. "Representatives from the Association for Civil Rights in Israel believe the law impinges on the rights of the Arab minority," the book reads. "There are also other proposed laws that, if accepted, are likely to harm the Arab minority in Israel, such as the oath of loyalty to the state of Israel as a Jewish and democratic state."
In yet another controversial passage, the book tells students, "The Right attaches great importance to the nation and to national heritage… The Right tends to prefer those of the same nation over those of other nationalities and exalts values connected to nationality, and the Left is more supportive of humanism."