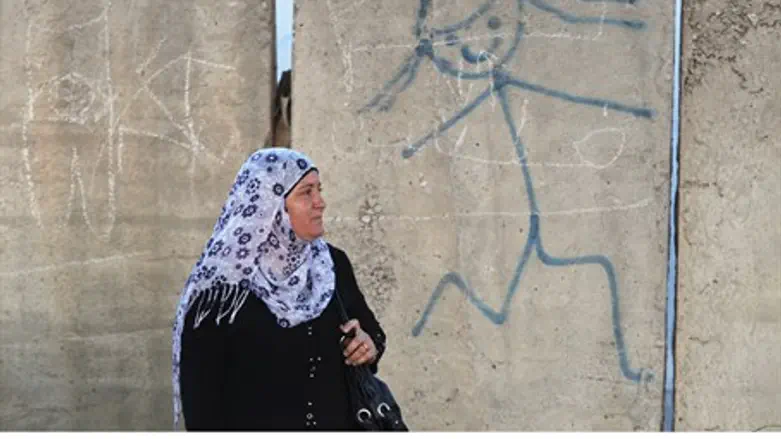 Arab woman stands in front of anti-Semitic ca
Reuters
Many of the popular television specials airing across the Muslim and Arab world during the month of Ramadan are "rife with anti-Semitic themes and expressions of hatred for Israel," according to the Anti-Defamation League (ADL).
While anti-Semitic conspiracy theories and anti-Israel plot lines are common themes in the Arab media, there is an upsurge of such programming during Ramadan, when satellite television viewership increases.
"Ramadan is where the television networks enjoy high viewership numbers and a captive audience, and several networks in the Arab world are once again peddling anti-Semitic content," said Abraham H. Foxman, ADL National Director.  "While this year is perhaps no different from what we have seen in previous years, it is deeply disturbing to see how anti-Semitism is so casually treated on some of these programs, where conspiracy theories such as those espoused in the notorious forgery, 'The Protocols of the Elders of Zion' are repeated as if they were fact, and where Israelis are portrayed using the grossest caricatures. "
For example, the Ashab il-Sabt bi-weekly show aired by Ar-Rahma, a Salafist channel based in Egypt, features an anti-Semitic professor, allegedly a specialist in Hebrew literature, who uses the show as a podium for propagate conspiracy theories from "Protocols of the Elders of Zion" and other hateful theories about Judaism.
Firqat Naji Attalah, a nightly series that is widely aired throughout the Middle East, depicts Israelis in classic anti-Semitic fashion and gives audiences "the sweetest jokes about the 'cheap Jew,'" according to the MBC network, which is broadcasting the show throughout the Middle East. 
Another Ramadan favorite, the Il Hukm Ba'd il Muzawla Candid Camera-style show, which airs on the Egypt-based An-Nahar TV, similarly provokes irrational and blatantly anti-Semitic reactions from its audience. Some guests have brutally beaten the staff after they were led to believe the staff members of the show were Jewish.
In addition, the Hizbullah-operated Al-Manar channel is playing a series called "Al Ghalibun," which depicts Israelis as cruel invaders of Lebanon and glorifies terrorism against Israel.
"The significant factor about these shows is not just that they are drenched in the traditional tropes of anti-Semitism in which Jews are portrayed as cheap as well as cheats and villainous victimizers of Muslims. It is that these programs are clearly crafted to appeal to a popular audience throughout the Middle East. While they can be rightly accused of promoting hatred at the same time they must also be understood as a reflection of the attitudes prevalent in Muslim societies," explains Jonathan Tobin of Commentary Magazine. "The producers of these shows are guilty of pandering to the deeply ingrained prejudices of the Islamic world as much as they are feeding them."
"Those who believe such attitudes are caused by West Bank settlements or the refusal of Israel to make enough concessions to the Palestinians need to understand that the hatred of Jews is not so much a function of politics but of culture," Tobin asserts.  
"Until there is a sea change within the Muslim world in which this kind of hatred is not only no longer popular but rejected by mainstream opinion, Middle East peace is just a dream," he adds.