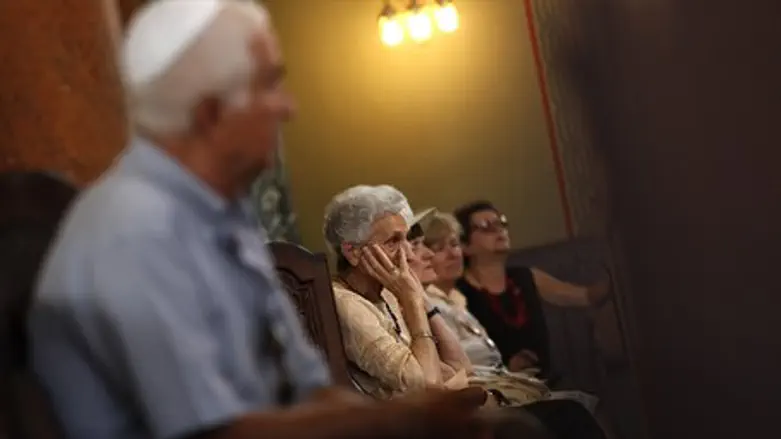 Jewish residents
Reuters
A British judge has allowed a 10-year-old Jewish child to convert to Christianity against her Jewish mother's wishes.
While both of the girl's parent's are Jewish, the father converted to Christianity after the marriage soured. The 10-year-old girl and her brother attended Sunday church with their father following their parents' divorce in 2010.
The daughter, who along with the rest of her family has not been named, has expressed a strong desire to convert to Christianity, wanting to follow in her father's footsteps. Her mother, however, believes she is too young to make such a monumental decision, saying she should wait until she reaches the age of 16.
Rejecting the mother's position, Judge John Platt ruled on Wednesday at Romford County Court in Essex that both the girl and her younger brother could convert to Christianity, if they so desire.
"Sometimes parents simply cannot agree on what is best for their child, but they can't both be right," Platt wrote in his decision.
"My job is to decide simply what is best for you, and I have decided that the best thing for you is that you are allowed to start your baptism classes as soon as they can be arranged and that you are baptized as a Christian as soon as your minister feels you are ready," Pratt wrote.
"Being baptized does not mean that you give up your Jewish heritage. That will always be part of you and I hope that you will continue to learn more about that heritage and about your mother's faith. Even after you are baptized you are still free to change your mind about your faith later when you are older," the judge wrote.
According to court documents, the father has "no intention of denying his children's Jewish heritage and culture' and accepts that 'both his children have been born of a Jewish mother and consequently are and always will be Jewish."
On the issue of confirmation, or the rite of initiation in Christian churches, the judge added that, "In the light of her Jewish heritage, I would consider it appropriate that she should attain a much fuller degree of understanding and greater maturity before being confirmed. and I therefore propose that she should not be confirmed before her 16th birthday without the consent of the mother."
The court heard a written submission from Chabad rabbi Odom Brandman, who said the case was "extremely disturbing," The Jewish Chronicle reported.
"In Judaism, we don't encourage conversion either way as it is unnatural for a person to change the religion they are born into and which thus is ingrained in their soul in a real way. Although conversions are performed, they must be worked at over a number of years when a real change can realistically take place. It is unfair to any child to put them under this pressure and to do something unnatural to their soul."