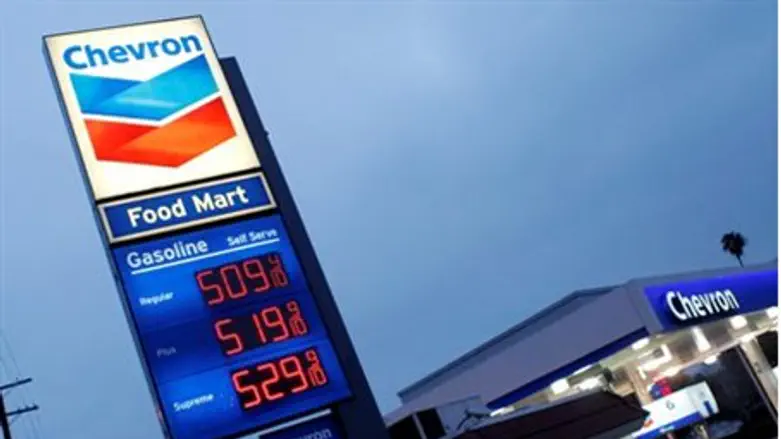 Gasoline station in downtown Los Angeles
Reuters
Whether bluff or bluster, Iranian President Mahmoud Ahmadinejad has called for a total halt to cure oil exports, a move that could be economic suicide but also could cause a worldwide depression. Iran relies on oil for approximately 80 percent of its foreign income, which Ahmadinejad needs to continue his race for nuclear capability.
Iranian media, controlled by the government, reported Tuesday that he accused world powers of manipulating the oil industry and that halting exports of crude oil would put pressure on oil producers. "The real price of oil should have been very much higher in the market than what it is presently," he said.
Ahmadinejad made his remarks at a dedication of two large projects at Tehran's Shahid Tondgoyan oil refinery. He added that the Shahid Tondgoyan oil refinery was the first refinery being fully completed by Iranian experts and is an "indication of the complete nationalization of Iran's oil industry."
"Enemies of Iran could not tolerate the country has found access to the knowledge of producing and meeting all its demand," he added.
For all of his threats, Ahmadinejad's comments may reflect both a growing concern that the sanctions are working and the need to win over doubters at home, where the economy is suffering from sanctions despite his mocking the United States and its allies.
Iranian crude exports have fallen sharply because of U.S. and European Union sanctions aimed at starving Tehran of vital oil revenues for its disputed nuclear program by banning imports of both Iranian crude and refined products, Reuters reported.
Washington has prohibited U.S. companies from trading in all Iranian oil products for years, while the EU banned its companies from importing crude and refined products from July 1.
Until 2007, Iran's inadequate refinery infrastructure and rising demand made it increasingly dependent on imported gasoline - a vulnerability Western powers have targeted by banning fuel sales to the country, the news agency added.
Ahmadinejad said at the refinery that the Western sanctions are "ridiculous," bragging that Western countries "use oil as a political weapon against a country that is an oil producer itself."
The U.S. Congress last week approved a new set of sanctions on Iran's energy and shipping industry.