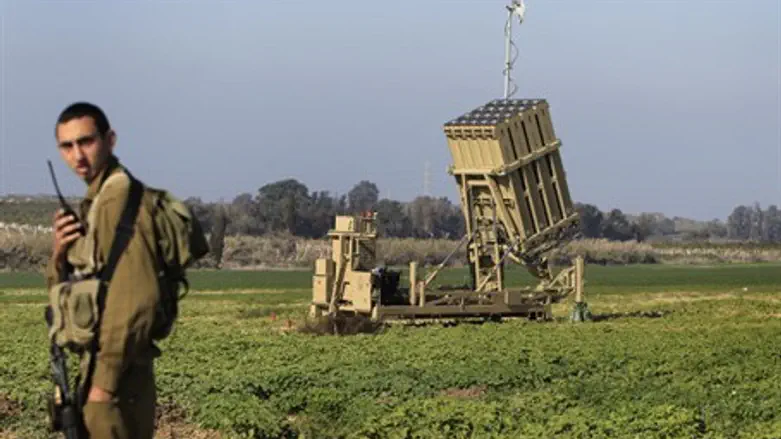 Iron Dome system
Israel news photo: Flash 90
Two more Iron Dome anti-missile defense systems are to be delivered to Israel by early next year.
In addition, U.S. President Barack Obama signed a bill over the weekend that expanded America's defense cooperation with Israel. The bill included a $70 million allocation for the Iron Dome that was approved by the Congress two months ago.
The Iron Dome system is equipped with a battery of three launchers and uses Tamir interceptor missiles to intercept and destroy rockets at ranges of 4 to 70 kilometers.
Both of the systems to be delivered in early 2013 come equipped with a new radar system that spans a wider geographic area, and new, upgraded software.
Thus far, each is to be classified as a reserve unit and will be operated by reservists who have already served their tour of duty, said the IDF source; however, both are on standby for "emergency" situations.
The country already has four such batteries installed in major population centers in the southern region – Ashdod, Ashkelon, Be'er Sheva and most recently, Eilat.
All were installed to intercept rocket attacks fired by Palestinian Authority terrorists from Gaza, mostly members of the Hamas and Islamic Jihad terror organizations. The Eilat battery was placed in anticipation of an upswing in attacks following an increase in terror activity in the Sinai Peninsula.