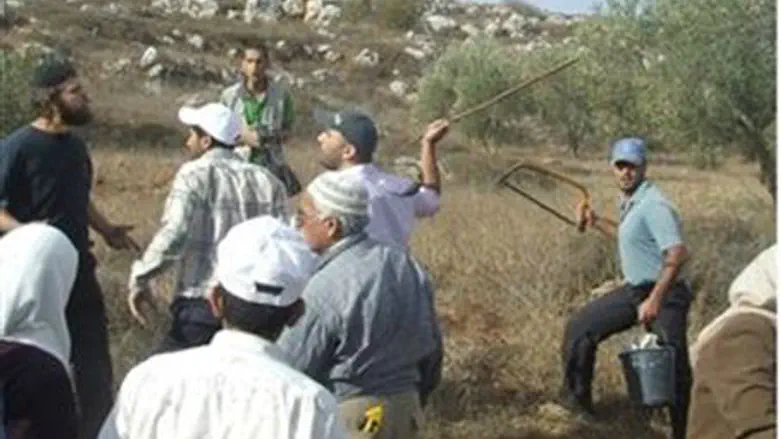 Arab mob
Israel news photo: Binyamin residents council
An Arab mob ambushed and severely beat several Jews praying in a field in Samaria Wednesday before they left when soldiers shot in the air.
The Arabs, from the Palestinian Authority village of Sinjil in the Binyamin region, have been arriving almost every day for several weeks to interrupt the Jewish prayers of residents from Givat Harel. The Jewish residents said they maintain their presence in the fields to prevent a hostile takeover of the state lands near their community, located between Shiloh and Harel in northern Samaria.
"A large crowd of Arabs attacked the Jews from Givat Harel with the intention of carrying out a 'lynch,'" the Hebrew terminology for a deadly ambush, said Moshe Hisdai, a member of the Binyamin Residents' Committee.
"They come every morning during prayers, and the Jews decided not to engage in a conflict with them, but instead to stand and pray," he added.
Wednesday morning, the leader of the Arab village arrived and gave a signal to the mob to attack, causing severe injuries to several people. "One of the Jewish residents escaped, but the Arabs chased after him and beat him severely," accords to Hisdai.
IDF soldiers, including an officer, shot in the air, but the shots only brought out more Arabs to join the ambush until the mob realized that the IDF would not continue to ignore them, and instead dispersed.
Hisdai explained that the Palestinian Authority has used Red Crescent vehicles to help Arabs try to take over the land as well as an archaeological site around Givat Harel.
"The writing on the wall is clear," he continued. "It only is a matter of time before blood will be spilled" to the point of murder.
Givat Harel was established in 1998 and was named after 18-year old Harel Bin Nun, who was shot and killed by Arab terrorists in the same year.
The village now is home to 40 families.