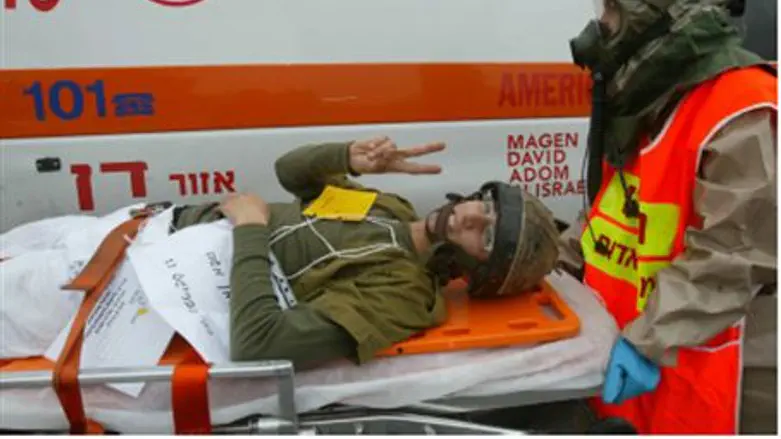 Chemical attack drill (file)
Israel news photo: Flash 90
Syrian President Bashar Assad  knows Israel will attack Hizbullah if it obtains his chemical weapons, said Foreign Minister Avigdor Lieberman.
"The minute we confirm that Hizbullah has non-conventional weapons, that is chemical and biological weapons, we will act immediately," he said in an interview on radio in Israel.
"This message was understood clearly" by the United Nations, the United States and European countries, he said from Brussels, where he is attending a European conference. "Assad also understands this," he added.
Lieberman also said that the reports of Europe's rejecting his request this week to label Hizbullah a terrorist organization are misleading. He explained that "this is the first time we have proposed it, and it won't happen in one day."
Most European countries recognize Hizbullah as a political party despite its terrorist activities. Lieberman said that virtually all of Europe "understands the significance of non-conventional weapons."
On domestic political issues, Lieberman sad his Yisrael Beytenu party would adamantly oppose proposed alternatives to the Tal Law concerning exemptions from the draft, but he emphasized "it's all talk in the air" to think that any legislation will passed before the Knesset returns in October from its summer and High Holiday break.
He also said he was not consulted by Prime Minister Binyamin Netanyahu concerning a proposed one percent hike in the Value Added Tax (VAT), but that his party would vote against it.