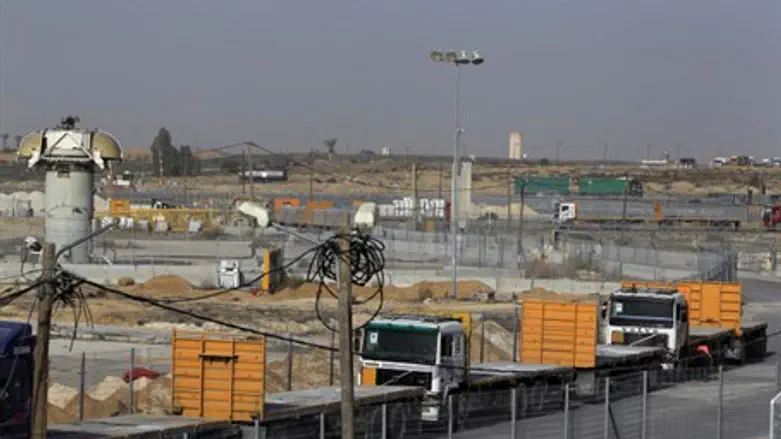 Kerem Shalom crossing
Flash 90
Statistics published on Monday by the Coordinator of Government Activities in Judea, Samaria and Gaza (COGAT) show that over the last two weeks there has been a decline in the number of requests to coordinate medical treatment for Gaza residents in Israel. The statistics show that last week, the requests stopped completely.
The reason for the decline is a confrontation between Hamas which controls Gaza and its rival Fatah, which controls the Palestinian Authority-assigned areas of Judea and Samaria.
According to the data, in January 1,685 patients from Gaza entered Israel for medical treatment, in March the number dropped to 1,447, and in the first three weeks of July only 719 patients came through into Israel. Last Wednesday, no requests whatsoever were received.
Surprised at the decrease in the volume of requests to exit Gaza for medical treatment in Israel, COGAT commanders checked with their counterparts at the PA Ministry of Health in Ramallah, who complained that Hamas is preventing the transfer of patients to hospitals in Israel.
According to Major Avi Moshe, a COGAT officer stationed at the Erez crossing between Israel and Gaza, "The reason is probably an internal Palestinian struggle between Hamas and representatives from the PA. This is not the first time we have seen such cases. Three years ago we experienced a similar period because of an internal Palestinian. However, after several weeks the two sides worked out their differences and we once again received requests for medical treatment of Gaza residents in Israel."
The communication channels between Israel and the PA's Ministry of Health have been maintained in recent years, despite Hamas' violent takeover of Gaza in 2007.
More than once, Israeli doctors have helped save the lives of PA Arabs from Gaza who came to receive treatment in Israeli hospitals.
In one case, the Israeli Civil Administration and the Hadassah Hospital in Jerusalem provided and even funded medical treatment for a PA Arab.
In addition to providing medical care to Gaza residents, Israel has also helped local farmers export agricultural products and even furniture to Europe.
Most recently, the Civil Administration organized a three-day seminar, free of charge, for officials of the PA Ministry of Agriculture at the Seasons Hotel in Netanya.
Hamas and PA Chairman Mahmoud Abbas' Fatah have been at each other's throats since Hamas violently overthrew the Fatah government in Gaza. The two factions signed a reconciliation deal in May of 2011, but the deal has repeatedly faltered as the parties spar over its implementation.