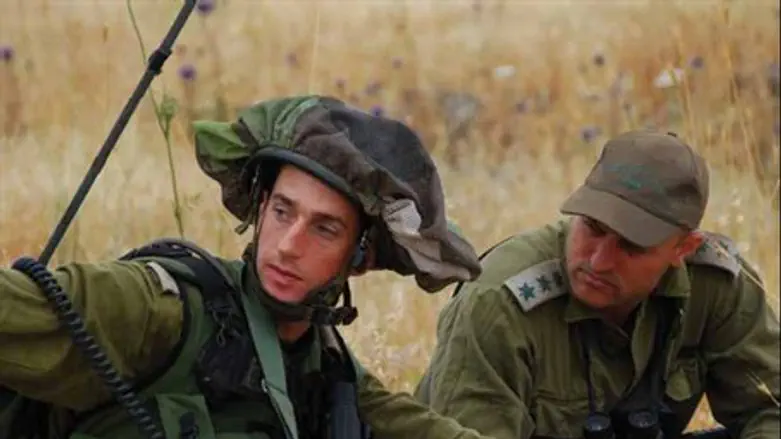 Golan exercise
IDF Website
Israel on Monday lodged a complaint with the United Nations following an incident in which Syrian soldiers crossed into the demilitarized zone in the Golan Heights.

"Israel has formally complained to the UN as this is a serious incident. (This complaint) constitutes a very clear message that we address via the UN to those who control Syria," Foreign Ministry spokesman for Arabic media, Lior Ben Dor said.

In a letter addressed to UN Secretary General Ban Ki-moon and to the UN Security Council, deputy ambassador to the UN Haim Waxman said Syria had violated a peace agreement by infiltrating the zone.

This was a "blunt violation of this agreement," he said, "with potentially far-reaching implications for the security and stability of the region."

"The Security Council should address this alarming development with great seriousness," he said, adding that the incident took place the same day as an inspection of the Golan Heights by Israeli Defense Minister Ehud Barak.

Israel's Hebrew-language press reported some 500 Syrian soldiers and 50 vehicles had crossed into the zone.
The incursion came just one day after senior security officials and military commanders met in Jerusalem to discuss the increasingly unstable situation in Syria.
While deemed unlikely by most regional observers, defense ministry officials say they are concerned that embattled Syrian president Bashar al-Assad may try to deal long-time nemesis Israel a vicious parting blow should he see his downfall as imminent.
Also of concern – and deemed more likely by military analysts – is the concern that the chaos stemming from 16 months of unrest in Syria could spill over Israel's northern border, leading to conflict.
Israel has reinforced its frontier with Syria in the event refugees or army defectors seeking to escape Assad's bloody crackdown flood across the border.
Reports from Syria indicate scores have been killed in clashes in Aleppo – Syria's most populous and economically important city – while fierce fighting continues in the once-impregnable capital of Damascus.
The rebel Free Syrian Army's military council head General Mustafa al-Sheikh told reporters "a real war of attrition" was underway in Damascus.

"The regime is collapsing, the speed at which it is falling has increased. That means it will use greater violence in order to try and save itself," said Sheik.
Elsewhere, rebels battled troops for control of border crossing posts with Turkey, Iraq and Jordan, as Turkey moved batteries of ground-to-air missiles to its frontier with Syria.
Human rights observers say over 19,000 people – most of them civilians – have been killed in the popular uprising turned civil war that has rocked Syria since March 2012.