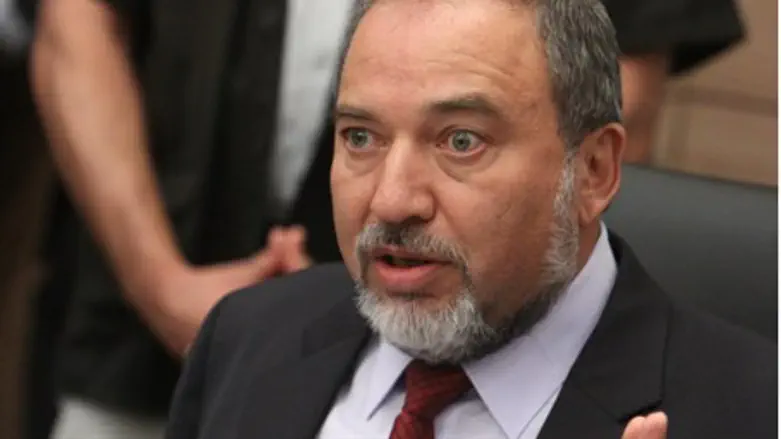 Avigdor Lieberman
Flash 90
Speaking Thursday morning, Foreign Minister Avigdor Lieberman said that Israel had "solid, indisputable evidence" that Hizbullah was behind the terrorist attack in Bulgaria on Wednesday. "Hizbullah terrorists undertook this attack, aided by Iran's Revolutionary Guards." Lieberman added that Israel had made a "positive identification" of the terrorists involved in the attack. He did not specify how Israel came to that conclusion, though.
After the attack Wednesday, Prime Minister Binyamin Netanyahu said in a statement that "all the indications are that Iran is behind this deadly attack.Only in the past few months we have seen Iranian attempts to attack Israelis in Thailand, India, Georgia, Kenya, Cyprus and other places." Wednesday also marked the 18th anniversary of the attack on the Jewish community center in Buenos Aires, in which 85 people were killed. Iran was behind that attack as well, Netanyahu said. "Eighteen years exactly after the blast at the Jewish community centre in Argentina, murderous Iranian terror continues to hit innocent people. This is an Iranian terror attack that is spreading throughout the entire world. Israel will react powerfully against Iranian terror."
Iran, for its part, denied any role in the attack, calling the idea "ridiculous." Lieberman, however, said that the attack was "typical" for the type of attack that Iran has carried out. "Iran and Hizbullah do not stop plotting and acting against us even for a moment," Lieberman told Israel Radio. "It did not start yesterday, and will not end tomorrow."
In a revised statement Thursday, the Foreign Ministry said that it had reduced the casualty count in the Bulgaria bombing downwards. Five Israelis were killed in the blast, and not six, as had been previously reported. Seven people were killed in the explosion on the bus at Sofia's airport Wednesday, one of them apparently the suicide bomber who set off the blast, and the other the Bulgarian bus driver, reports from Sofia said. Thirty one Israelis were injured in the attack, and three of them were in serious condition. The three were on their way back to Israel, after teams of Israeli physicians ensured that they could be moved and transported to the airport safely.