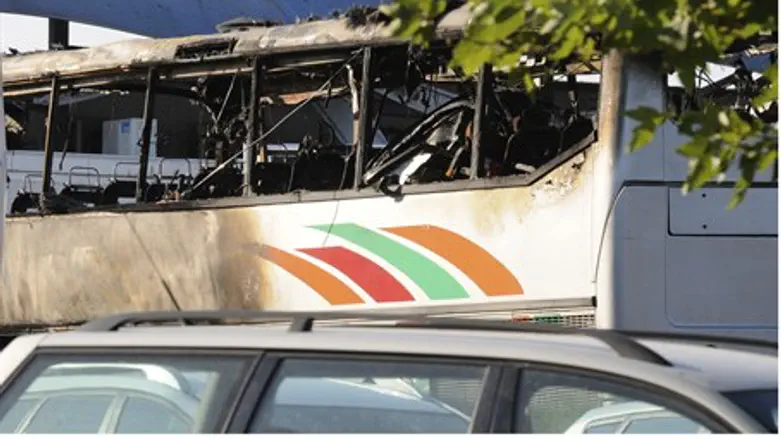 Burnt bus in Bulgaria
Reuters
Bulgarian police are investigating Wednesday's terror attack in Burgas, which killed seven people, including five Israelis, and wounded 35.
The attack occurred when an explosive device planted on a bus carrying Israeli tourists went off.
Bulgarian Interior Minister Tsvetan Tsvetanov said on Wednesday evening, according to a report on Reuters, that police were investigating two possible causes of the blast - that an explosive device was put in the bus before the tourists boarded or that the explosives were in the tourists' luggage.
Meanwhile, Magen David Adom said that three of the people who were wounded in the attack were in serious to critical condition. A special delegation of Magen David Adom paramedics and senior doctors and experts from Tel Aviv's Ichilov Hospital left Israel on Wednesday night to assist the medical teams in Burgas.
The victims of the attack were on a chartered flight from Israel to Bulgaria which landed in Burgas at 4:45 p.m. local time on Wednesday afternoon. The Israelis were then placed on buses that were supposed to take them to local hotels. One of the buses was then blown up.
Iran and Hizbullah appear to be behind the blast in Bulgaria, as Prime Minister Binyamin Netanyahu said Wednesday evening.
"Only in the last few months we have witnessed terror attacks in Thailand, India, Georgia, Cyprus and elsewhere," he said. Netanyahu noted that the attack took place on the 18th anniversary of the blast at the AMIA building in Buenos Aires that killed 85.
"Iranian terror continues to strike at innocents. Israel will respond with force to the Iranian terror," he said.
credit: רויטרס
credit: רויטרס
credit: רויטרס
credit: רויטרס
credit: רויטרס
credit: רויטרס