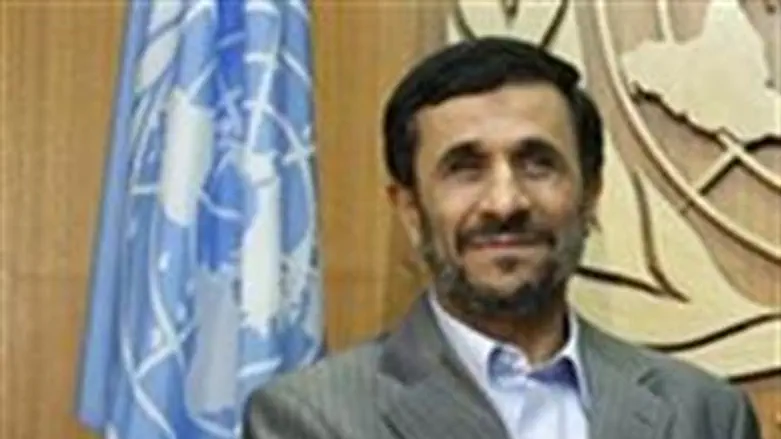 Iranian President Ahmadinejad
Israel news photo: Flash 90
Yemeni president Abd-Rabbu Mansour Hadi called on Tehran to stay out of Yemen's internal affairs on Wednesday after security officials in Sanaa announced they had uncovered an Iranian spy ring there.
affairs.

"We hope that our brothers in Iran won't interfere in Yemen's affairs and that they take into consideration the situation in Yemen," Hadi said.
Hadi – who replaced ousted 33-year president Ali Abdullah Saleh earlier this year – is fighting a US-backed offensive against an entrenched tribal-based Islamist insurgency with a deeply divided army.
Bordering Saudi Arabia – the world's top oil producer and a key US ally – Washington views Yemen as a frontline in its "counter-terrorism" campaign against al-Qaeda. Washington, Riyadh, and other Gulf Arab nations have previously accused Iran of actively seeking to destabilize the region, including southern and northern Yemen.
Iranian spy rings have also been broken up by security officials in Kuwait and Bahrain this year, though Tehran disavows any knowledge of its alleged agent's activities.

US ambassador to Yemen, Gerald Feierstein, has openly accused Shi'ite Iran of working with Shi'ite Muslim rebels in northern Yemen and secessionists in the south to gain influence at the expense of Yemen's Sunni Gulf neighbors.
Saudi Arabia and its fellow members of the Gulf Cooperation Council are vying with Iran for hegemony over the Persian Gulf region, and crafted the power transfer deal that saw Hadi – Saleh's long-term Vice President – rise to power.

Hadi has vowed to preserve Yemen and fight the country's branch of al Qaeda – whose local affiliates took control of parts of southern Yemen during the popular uprising against Saleh's long rule.

The government's hold on much of the south remains tenuous. On Wednesday, armed men cut off roads leading to a government compound in Dalea province.