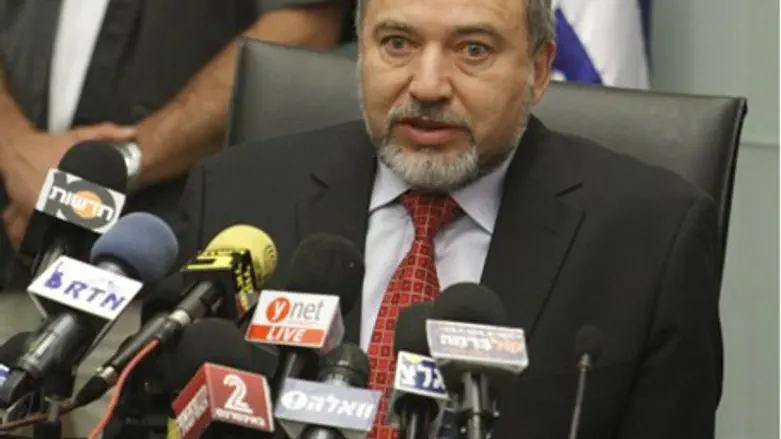 Avigdor Lieberman
Flash 90
The Knesset on Wednesday killed a bill that would have mandated universal military service for all Israelis at age 18 – including Arabs and Hareidi-religious – by a vote of 74 to 22.
The bill from Foreign Minister Avigdor Lieberman's Yisrael Beytenu party would have made those who refuse to serve in the army or perform national service ineligible for funding from the State.
After the Knesset voted down the bill, Lieberman said "reality will do what the bill didn't. Right now were focusing on August 1 (the expiration of Tal Law)."
The inability of the Likud-led government of Prime Minister Binyamin Netanyahu to draft a suitable replacement for the controversial Tal Law – which exempted Hareidi men from military service – led to the collapse of a short-lived coalition government with the Kadima party.
Before Kadima quit the coalition, MK David Rotem, who drafted the bill, warned that the adoption of the so-called Plesner Committee's recommendations would not lead to equal share of the burden.
'It's important that this Tal Law clone won't be confirmed by Knesset," he said. "We have a real chance to not just to talk about equal share of the burden -- but to implement it."
"Plesner wants to be liked by a part of the public, and others have an interest in being liked by other segments of the population. As soon as Plesner decided that Arabs do not have to serve – this means there is no equal distribution of the burden," he added.
Kadima MK Yohanan Plesner's ad hoc committee tasked with drafting a replacement for the Tal Law collapsed amid political discord.
A subsequent working group headed by Plesner and Likud deputy prime minister Moshe Yaalon also collapsed amid wrangling between Israel's two largest political parties.