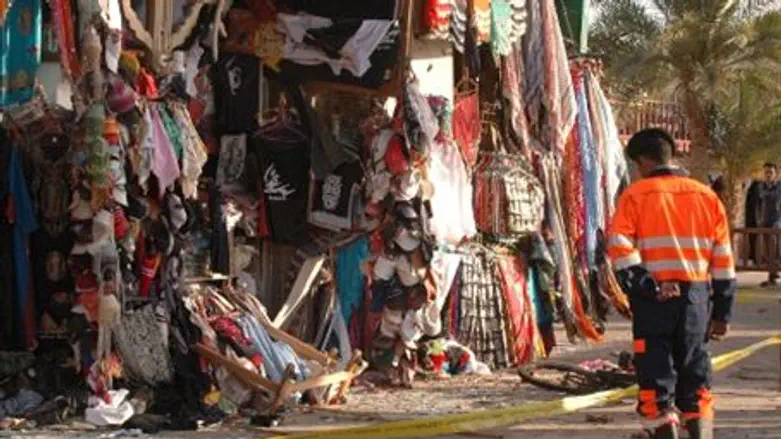 Aftermath of terrorist attack in Sinai
Israel news photo: Flash 90
Jihad terrorists are threatening to take over the Sinai, says U.S. Secretary of State Hillary Clinton, who added it will be a problem for Egypt and the United States as well as for Israel. 
In an interview with CNN before she left Jerusalem Tuesday, Clinton pointed out that the she is concerned for the safety of Americans serving in the multinational force as observers for the continuation of the Camp David Accords.
The Sinai is next door to Gaza, which Hamas has controlled since it ousted the rival Fatah faction six years ago, although it is being challenged by Islamic Jihad and other rival terrorist groups, all of which have the common goal of annihilating Israel.
The Egyptian-Israeli peace treaty is not in immediate danger, but the new Muslim Brotherhood president still has no functioning government and is at odds with the military regime that replaced President Hosni Mubarak. President Mohammed Morsi's statements have been harshly anti-Israel.
Bedouin and Al Qaeda terrorists have been carving out fiefdoms in the Sinai for more than a year, and if the area becomes a de facto terror state, Israel will be facing another enemy but one without a defined leader.
Clinton said that Egypt is no less concerned.
Director of Military Intelligence Major-General Aviv Kochavi told the Knesset's Foreign Affairs and Defense Committee Tuesday that the IDF has been able to prevent at least 10 terror cells from operating in the Sinai, but that terrorists still remain, armed with rockets and explosives.
Clinton, who is retiring in January, also admitted that her "welcome" was far from warm. She said she was looking for "a chance to hear directly from people," and she got her wish in spades, or more accurately in tomatoes and shoes that were thrown at her convoy.
She tried to give events an optimistic spin, telling CNN, "I knew very well there'd be a lot of passion and conviction expressed, which I think demonstrates how invested Egyptians are in trying to make sure their democratic transition works out for the benefit of all the Egyptians - men and women, Muslim and Christian, everybody."
Clinton returned to Israel after a knock-out 27,000-mile trip. In her three-year tenure, she has visited a record number of 102 countries and has traveled nearly 850,000 miles over a period of 351 days.
Before leaving Israel, she told reporters, "I'd like to be hanging out in Jerusalem, but, you know, I have to do my duty."