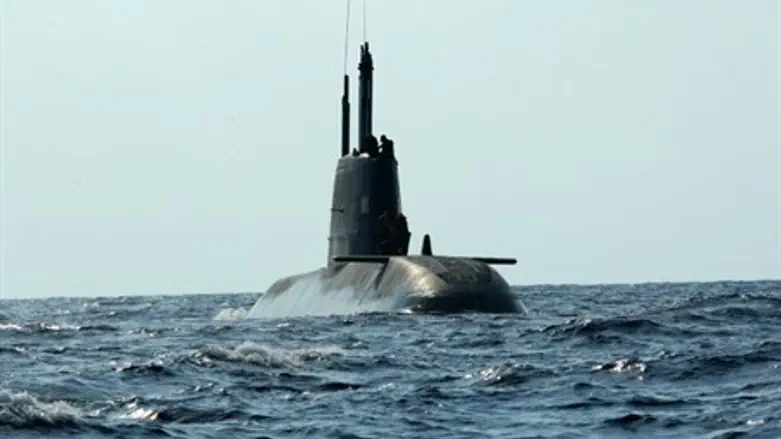 Israeli navy Dolphin-class submarine
Israel news photo: Flash 90
The Israeli Navy is set to hold exercises using live ammunition off Greece's Aegean island of Milos on July 18 with the cooperation, but not participation, of the Greek military, national media reported, according to Hurriyet Daily News.
While coordination and monitoring will be performed by radar located on nearby Mt. Parnitha, only Israeli warships will be involved in the exercises.
No information was available about the type or number of ships Israel will use during the military exercises.

According to the report, a NAVTEX, or navigational telex, has already been issued to ships and airplanes in the area regarding the exercises which will be using live fire.
The Navigational Telex is an international automated medium frequency direct-printing service, which delivers navigational and meteorological warnings and forecasts, as well as urgent marine safety information to ships.
In January, Israeli Defense Minister Ehud Barak and Greek Defense Minister Dimitris Avramopoulos met to discuss cooperation between the two countries. 
Avramopoulos said Greece is committed to deepening relations with Israel.
"The relations have been delayed for a long time," he said, adding that, "our cooperation is peaceful and honorable and is not against anyone. On the contrary, it can become a source of enrichment of the two people and also for other countries in the region."