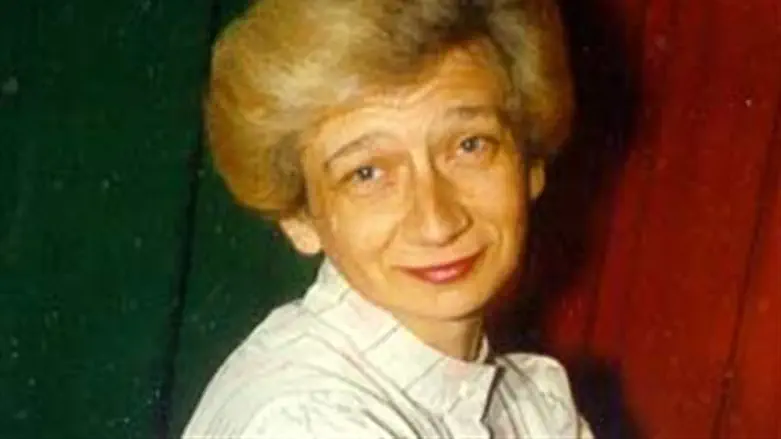 Yelena Businova z"l
Unknown
The leftist-dominated press in Israel has been playing up the story of Moshe Silman, who set himself on fire Saturday during anti-government protests. Silman has been compared to Mohammed Bouazizi, whose self-immolation in late 2010 became a catalyst for protests and eventual regime change in Tunisia and other Arab countries.
Nationalists, however, have been remembering Yelena Businova and Baruch Ben Menachem, and commenting on the way media coverage of Silman's tragedy differs from its coverage of those two cases, and shows the media's bias.
"No one remembers the only person who died during the execution of the Disengagement Plan," writes Emily Amrusi in Monday's edition of Yisrael Hayom. "An olah from Russia, 54, living on her own with no family in Israel, she left her caravan in Kedumim on August 17, 2005, two days after the forcible eviction of the residents of the Katif Bloc began.
"She planned to reach the Bloc but was stopped at a police roadblock near Netivot, and there she set herself on fire to protest the way the government was ignoring the opposition to the Disengagement. When the policemen understood what was happening and doused the flames, it was too late."
Businova was evacuated in critical condition to Soroka Hospital in Be'er Sheva and died of her burns nine days later.
And yet, Amrusi notes, Businova's death was hardly mentioned in the press. Amrusi, a former spokeswoman for the Yesha Council, warns that the press's coverage of Silman and the comparisons to Bouazizi could lead other desperate people to emulate Silman in the hope of turning into an eternal symbol of the protest movement. Such people "would do better not to remember Mohammed Bouazizi, but rather Yelena Businova," she writes.
About a week after Yelena Businova died, Baruch Ben Menachem, a single 32-year-old immigrant from the United States, set himself on fire in Jerusalem to protest the Expulsion from Gush Katif. He died of his wounds in Hadassah Ein Karem a few days later.
Ben Menachem had arrived at the entrance of Ulpan Etzion in Jerusalem with a prayer book, wearing tefillin (phylacteries). He poured a flammable liquid on himself and set himself on fire. Ben Menachem man told paramedics he had performed the act "in memory of Gush Katif."