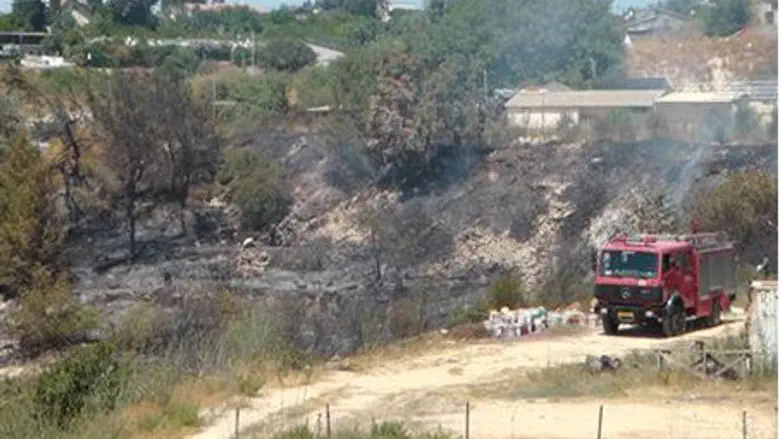 Fire at Aminadav, near Jerusalem
Hezki Ezra
Two Palestinian Authority Arab teens have been remanded for eight days after confessing to torching forest land near Kibbutz Ma'ale HaHamisha.
The two suspects, ages 17 and 18, are residents of the nearby PA village of Kfar Katna. They were arrested and taken into custody in a joint operation by Jerusalem District Police and Border Police. Both admitted under questioning to setting the massive blaze that blackened some 15 acres of forestland.
In addition, police told reporters the two suspects, who both have prior records, confessed to setting other fires as well. Police cautioned journalists not to jump to conclusions, however, noting that although "as far as we know, the motive was nationalist and intended to cause damage, the investigation isn't over." The kibbutz is located west of Jerusalem, near Beit Shemesh.
Late last month, two other Arab youths from the neighborhood  of Issawiya in eastern Jerusalem were arrested and similarly charged with arson in connection with wildfires that were set in a nearby area.
One of the pair confessed to the crime, and incriminated his partner in having set the blazes, one of which was set next to an Israeli army base near Hadassah Medical Center on Mount Scopus. Twelve soldiers were injured as a result and required treatment for smoke inhalation.
Literally hundreds of fires have sprung up around the Jerusalem area in recent weeks, particularly in the wooded hills in and around the nation's capital. In some cases, homes have had to be evacuated, and hundreds of dunams of natural forest growth has been damaged or destroyed.
Many of the fires are considered suspicious, with a number of Israelis expressing the belief the flames are the work of Arab terrorists.