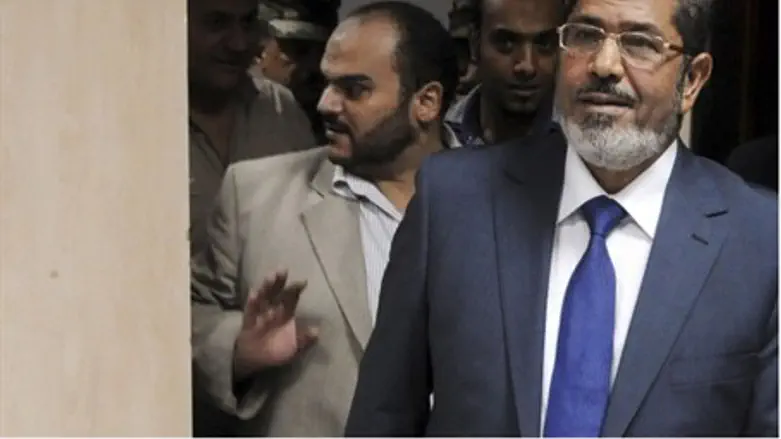 Mohammed Morsi
Reuters
United States President Barack Hussein Obama has invited his Egyptian counterpart Mohammed Morsi to conduct an official visit to the U.S. in September. Deputy Secretary of State William Perez said he delivered the invitation to Cairo during his meetings with the president on Sunday.
This would be the first visit ever to the U.S. by a member of the genocidal Muslim Brotherhood in an official capacity.
Obama previously made a congratulatory phone call to Morsi when his victory in Egypt's presidential elections was made official. Obama also confirmed the United States' commitment towards democratic development in Egypt and offered his country's support for the Egyptian economy.
According to Bikya Masr, Morsi sent a thank you message to the American president through Perez.
The Muslim Brotherhood, which was banned from political activity due to its subversive tactics for the past 60 years, captured the presidency after prolonged violent protests ousted former strongman Hosni Mubarak and the ruling military junta held elections. The unrest and rebellion that has swept through the Arab world in the last two years was encouraged, among other things, by Obama's speech in Cairo in 2009, in which he sought a "new beginning" in relations between the U.S. and adherents of the Muslim religion. 
Obama's invitation to Morsi would seem to indicate he is not overly concerned about a negative reaction by Jewish voters in the election two months afterwards. Polls show that while his support among American Jews is not as high as it was in 2008, he still commands a clear majority among them.
Adding to the complexity of the situation is tthe prospect of a war with Iran that looms overhead, with Israel hinting an attack will take place within months and that it may go it alone if the U.S. does not lead the strike. 
Video of a rally that launched Morsi's campaign shows clearly that the Muslim Brotherhood seeks violent annihilation of Israel.