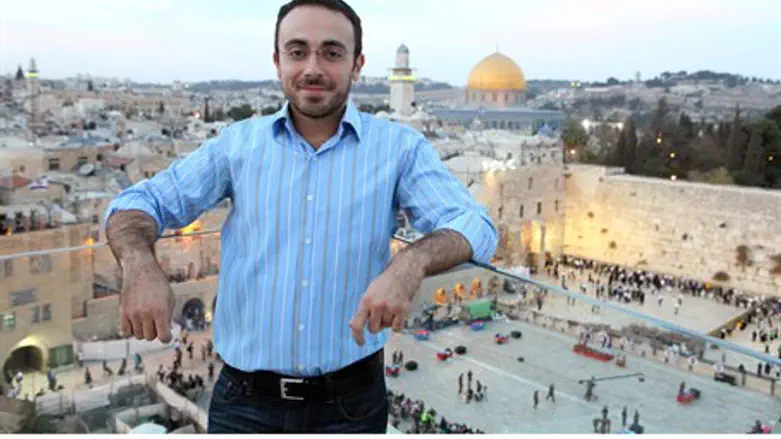 Mordechai Halawa in the Old City
Flash 90
Mordechai Halawa, 34, was raised in Kuwait as a Muslim. Several years ago, a small twist of fate led him to discover his Jewish roots.

Halawa, who told his story to Channel 2's M magazine, was studying in Ontario, Canada, eight years ago. One day his cell phone was not working, and he went outside to a pay phone to make a call.

At the pay phone, he saw a man in hareidi Jewish garb. He found himself unable to ignore the unusual sight, and began talking to the man, a professor of philosophy by the name of Dr. Yitzchak Block. "I find it hard to believe that what they say  [in Kuwait] about the Jews is really true," he found himself telling Block. "My grandmother was Jewish too, and converted to Islam to marry my grandfather."

Block carefully informed Halawa that according to Jewish law, his grandmother was still Jewish despite her conversion – and that Jewish status goes by the matrilineal line, making Halawa's mother and himself Jews as well.

Halawa decided to research the family connection to Judaism. Before he could finish, he slipped and fell while on roller blades, leading to a new connection to the Jewish community.

"I couldn't function normally. I had some extra time, so I decided it was a good opportunity to visit a synagogue," he explained. The Jews at the synagogue greeted him with warmth, he said, "I couldn't help thinking to myself, 'are these the cruel Jews they always told us about in school in Kuwait? Is this who they meant?'"

Halawa spoke to his grandmother, who confirmed that she is from a Jewish family. He continued to grow closer to the Jewish community. Twenty months ago, he came on a tour to Israel – and decided he did not want to go home.

"When I came here, no soldier waved a gun in my face, and the truth is, that really surprised me," he recalled. "When I visited the Western Wall for the first time I cried. I saw secular Jews, Chassidic, Jews of every kind. I just couldn't believe it."

Halawa is currently living in the Old City of Jerusalem, where he spends much of his time learning Torah at the Aish HaTorah yeshiva. He hopes to marry soon.