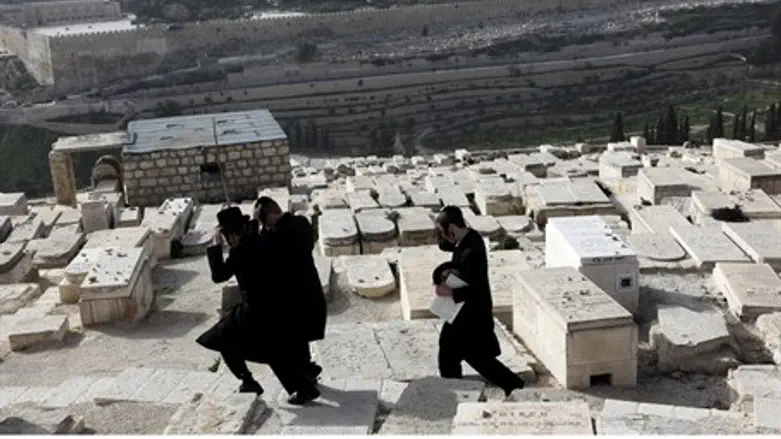 Mount of Olives cemetery
Israel news photo: Flash 90
It was a relatively minor incident, compared to terror attacks against Jews that make the news, but indicative of the times: a car driven by Arabs accidentally rammed into one carrying a Jewish family, and the Arabs then proceeded to attack two of the Jews.
The incident occurred shortly after midnight near the Tomb of the 'Or Haim' in Jerusalem, whose yarzeit "hilula" was held Wednesday night. Thousands of Jews made pilgrimage to his tomb on the Mount of Olives, with police, including mounted policemen and Border Police, providing security.
A Jewish family that had prayed at the tomb was stuck in a traffic jam on the way back down the mountain, when a car driven by Arabs tried to drive around the jam and struck the Jews' car forcefully. The Jew's car sustained serious damage.
The Arabs then got out of the car, not to apologize or escape but to blame the Jews. They started by shouting at the members of the Jewish family and then proceeded to physically assault the car's owner and his daughter.
One policeman was present at the scene of the attack but eyewitnesses said that he was unable to stop the violence.
A larger police force was eventually brought in and it arrested one of the Arabs. The daughter of the car's owner was taken to a hospital for medical treatment.