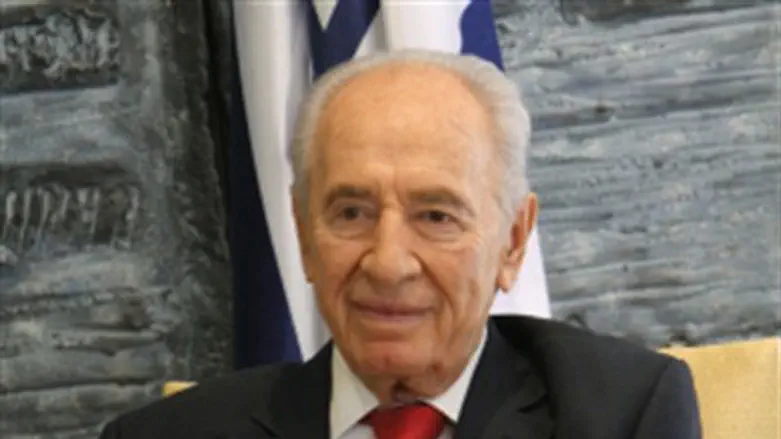 President Shimon Peres
Israel news photo: Flash 90
President Shimon Peres congratulated the American people on Tuesday as the U.S. celebrates its 236th Independence Day. Peres spoke at a special reception in honor of the 4th of July at the residence of U.S. Ambassador to Israel Daniel Shapiro.
"I am delighted to salute, on behalf of the State of Israel, the great United States of America on its 236th Independence Day," said Peres.
"There is a historic friendship between our two nations," he added. "America has been and remains Israel's greatest friend and greatest ally."
Speaking about the Iranian nuclear issue, Peres said the Iranian government and its policies are "the greatest threat to world peace. There is no justification for the rule of a government that threatens the existence of other countries, distributes and supports terrorism and develops nuclear weapons.
"I am convinced that President Obama will stand on this issue strong as a lion," said Peres.
"President Obama has assembled a coalition to lead the international campaign of sanctions and diplomatic understanding to call upon the Iranian regime to change its course," he noted. "He prefers to achieve an end to the issue peacefully but he has made it clear that all options remain on the table."
"Two weeks ago I returned from the United States, where President Obama gave me the Presidential Medal of Freedom," said Peres. "Beyond my own personal gratefulness for the decision of President Obama to award me this medal I felt a profound sense of national pride. It was in my eyes a moving gesture of a great leader and a great friend of Israel."
During the celebration, Prime Minister Binyamin Netanyahu's special video message to the citizens of the United States in honor of the July 4th holiday was presented to the guests. A leg injury prevented him from attending in person.
Speaking about the transformations in the Middle East, Netanyahu said, "In the near term, I think we'll all agree, there's ample reason for skepticism…But in the long term, in the long term I believe there's reason for hope."