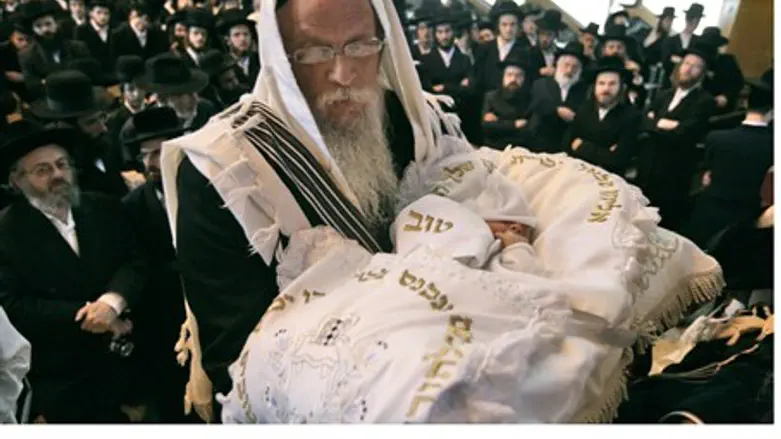 Brit milah (circumcision) ceremony (illustrat
Israel news photo: Flash 90
Berlin's Jewish Hospital has suspended circumcisions in the wake of a court ruling that the procedure is a crime punishable by law.
Approximately 100 religious circumcisions were performed at the hospital last year, in addition to another 200 that were performed for medical reasons.
The court ruling set off an uproar in the Jewish community, where the Jewish law requiring circumcision of boys dates back the forefather Avraham and is considered one of the most sacred Jewish customs.
German Foreign Minister Guido Westerwelle said on Twitter Friday, "The ruling on circumcision has provoked annoyance internationally. We have to be clear: religious traditions are protected in Germany."
Westerwelle is a member of the FDP party, a member of the government coalition and which said it will support a law to make sure that circumcision will continue to be legal.
The European Jewish Press, quoting AFP, said that Jewish Hospital Dr. Kristof Graf stated, "We are suspending circumcisions until the legal position is clear."
"We regularly performed circumcisions before this ruling, but we don't have the legal freedom to do so any more."
The ruling against circumcision was handed down by a Cologne court, which ruled it causes bodily harm. The case involved a doctor who circumcised a four-year-old boy whose parents later took him to a hospital because of excessive bleeding.
Circumcision is widely observed by Muslims, whose clerics have been joined by some Christians to fight the anti-circumcision ruling.
A senior Muslim cleric said that the Central Council of Muslims in Germany may appeal the ruling to the country's highest court.
Central Council of Jews in Germany director Dieter Graumann told Focus magazine on Saturday, "Circumcision is absolutely fundamental for the Jewish faith and non-negotiable."