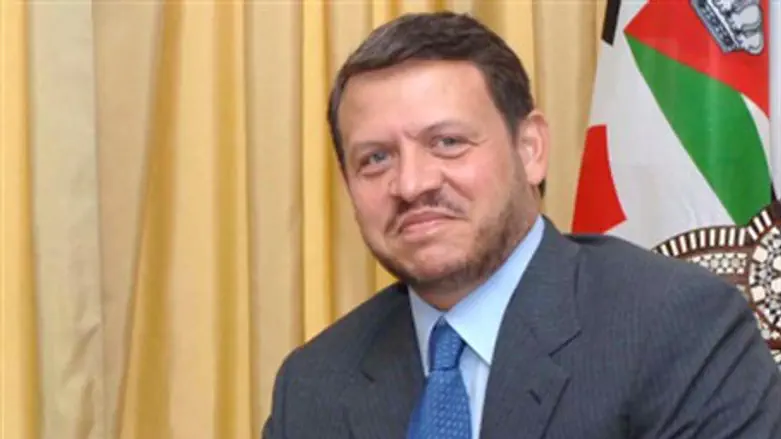 Jordan's King Abdullah
Israel news photo: Flash 90
Jordan's king urged his country's Islamist opposition on Sunday to take part in upcoming elections, despite their dissatisfaction with reforms, The Associated Press reported.
King Abdullah II made the appeal in a rare interview on Jordan TV, as part of his attempt to engage with the Islamic Action Front, the political arm of the Muslim Brotherhood, Jordan's main opposition.
"Our doors and hearts are open to everyone, including the Muslim Brotherhood and their party," AP quoted the king as having said. "We call on all groups to take part in this reform process and participate in the legislative elections."
King Abdullah is concerned that the Brotherhood's party will boycott elections, undermining his reform plan and igniting a violent uprising, like other countries in the Middle East. No date has been set, but the election is expected this year, noted AP.
The main dispute is over a new election reform law. The state says it gives concessions to the opposition by allowing each citizen two separate ballots. One vote goes to local candidates and the other to a 17-seat national list, giving country-wide ideological alliances like the Islamists a better chance to compete with regional or family-based politicians.
Islamists are arguing, however, that the law would still give a majority to pro-government loyalists.
"The reforms are cosmetic," Islamist party leader Hamza Mansour was quoted by AP as having said. "They are slow, insufficient and do not meet our expectations."
Abdullah promised that in the future, the parliament would select the prime minister, a main opposition demand. He insisted that "reform is irreversible."
He also chided the opposition for seeing "only the empty half of the glass," saying much has been achieved in the past months.
Jordan has weathered 18 months of street protests calling for a wider public say in politics, partially by curtailing the absolute powers of the king. The protests have been small and mild compared to mass uprisings elsewhere in the region.
A new cabinet led by Prime Minister Fayez Tarawneh was sworn in a few months ago. Tarawneh pledged his cabinet would be "a government of reforms that embodies your majesty's vision to guarantee the holding of parliamentary elections."
Critics, however, were skeptical that the new cabinet will indeed push for reforms.