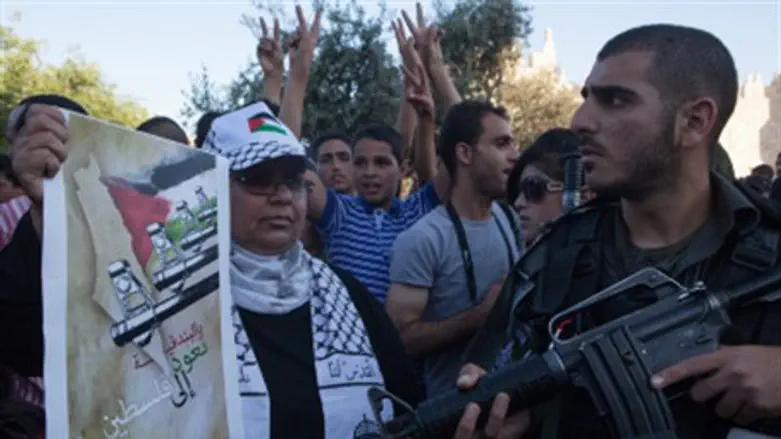 "Nakba Day" event in eastern Jerusalem
Israel news photo: Flash 90
The relationship between anti-Zionism and anti-Semitism has been hotly debated in a variety of forums, including in university classrooms and internet chatrooms. Now the topic will get expert input: the Jabotinsky Institute is hosting a panel Sunday night that will discuss the issue.

Among the speakers will be Dr. Roni Shtauber, who told Arutz Sheva that he thinks the two concepts are connected.

He began by explaining that modern anti-Zionism is unique. "I see as different anti-Zionism as it was before the state of Israel was established, which was a debate within the Jewish people – there were Jews who argued against Zionism, saying it was not a solution for the Jewish people," he said.

"But after the state was founded," he continued, "anti-Zionism essentially means the idea of destroying the state of the Jews. That is clearly an act against the Jewish people."

In the past, anti-Semites targeted Jews individually, but saw them as part of a collective, Shtauber said. Today, he explained, "the Jewish people is represented by the state of Israel, therefore, the two concepts are the same."

Extreme criticism of Israel today "has anti-Semitic tones," he noted. "Expressions are used that belong to the world of classic anti-Semitism."

"Therefore today, unlike in the past, it is hard to find a dividing line between the concepts [of anti-Semitism and anti-Zionism]. Those on the left, some of them Jews, believe there is a difference, but from analyzing the situation it appears there is not," he concluded.