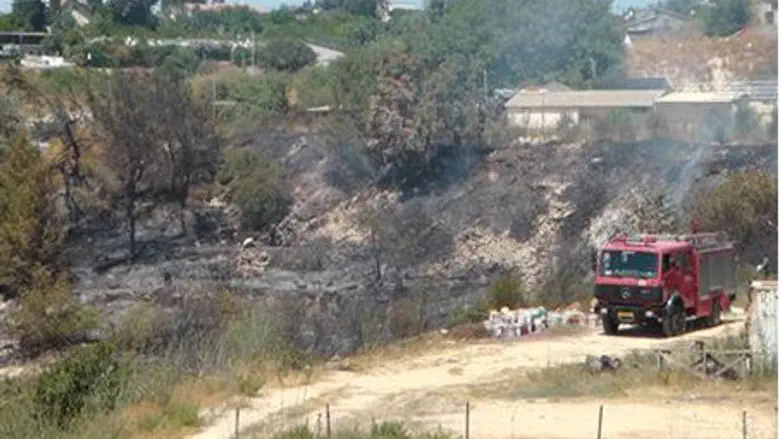 Fire at Aminadav
Hezki Ezra
Two Arab youths from the village of Issawiya in eastern Jerusalem were arrested Thursday and charged with arson, for setting several fires in the area of their village. One of the fires was set next to an IDF base on Mount Scopus, and the other was set next to Hadassah Hospital on Mount Scopus. One of the youths confessed, incriminating his partner in crime.
Twelve soldiers were injured in the fire at the base, requiring treatment for smoke inhalation. But the two fires were among the smaller of dozens of blazes that hit Jerusalem and other parts of Israel this week, with the largest being two major fires in the hills west of Jerusalem Tuesday. Some 300 homes were evacuated, and hundreds of dunams of natural forest growth were destroyed or damaged in the fire. Highway One, the main road into Jerusalem, was closed for hours while dozens of firefighters fought the blazes.
Although the weather in Israel has been hot and humid in recent weeks, many Israelis believe that the fires Jerusalem has experienced this month – one estimate said that some 300 small and large fires were reported in Jerusalem and vicinity – were the work of Arab terrorists. Minister of Internal Security Yitzchak Aharonovitch said Wednesday that the massive fire Tuesday was probably the result of arson motivated by Arab nationalism. Police have already arrested suspects, he said, "some for their nationalism, some for their criminal background." Police term such arson attacks "spontaneous terrorism," he continued. "You don't need an organization to set a forest on fire."
On Monday, three other fires broke out in Jerusalem, with at least one of them likely a case of arson. Three firefighting crews were needed to put out a blaze in an open area in the Gilo neighborhood, while a second fire raged in an open area in the Bayit Vegan neighborhood. The third fire, in the Talpiot industrial zone, was deemed suspicious after several individuals were seen fleeing the scene of the fire. Several vehicles were damaged in that fire.
Meanwhile, witnesses said Monday that Arabs invaded a house in Havat Gilad, in the Binyamin region of Israel, and set fire to a house in the neighborhood. The house was badly damaged, the report said. Large numbers of firefighters were able to bring the fire under control, and put the blaze out.
Initial investigations indicated that arson was the cause, most likely a fire set by local Arabs. Evidence at the scene showed that several individuals broke into the house, breaking a window. Furniture was broken, as were mirrors and other items in the house. A spokesperson for the fire department told Arutz Sheva that four firefighting crews were needed to douse the blaze. "There was fear that the roof was going to fall in," the spokesperson said. "We were able to bring the fire under control quickly and prevented the spread of the blaze to other homes. The house was badly damaged," he said.