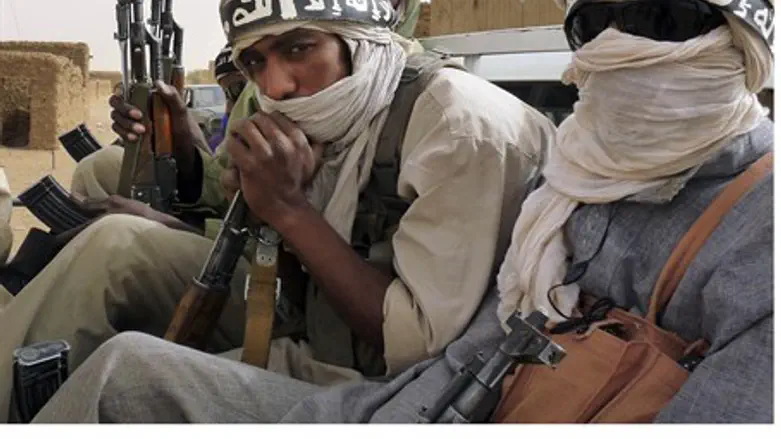 Ansar Dine members ride near Kidal in northea
Reuters
Islamist rebel separatists have seized northern Mali, killing 20 as they clashed with a second rebel force.
Fighters from the MUJAO faction – the "Movement for Oneness and Jihad in West Africa" -- opened the clash by parking a car packed with weaponry close to the Gao headquarters of secular rival, the National Movement for the Liberation of the Azawad  (NMLA).
Azawad is the local name for northern Mali.
The MUJAO, an offshoot of Al-Qaeda in the Islamic Maghreb (AQIM), then fought their way into the building, ousting the NMLA members. Both MUJAO and Al-Qaeda back the main Islamist terrorist rebel group in northern Mali, the Ansar Dine (Defenders of Faith).
Much of the AQIM leadership is currently based in Algeria.
The Ansar Dine is hoping to create an Islamic state ruled by Shari'a (Islamic law) should Azawad (northern Mali) gain independence.
Women have been forced to wear veils in the towns of Timbuktu, Gao and Kidal; smokers have been whipped and last week a young couple was publicly lashed for having conceived a child out of wedlock, the AFP news agency reported.
A local source told the New York Times heavy gunfire continued from the area until at least 2:00 p.m. By then, all the NMLA flags had been replaced by Islamists' flags, he said. At least 20 people died in the clash, according to AFP, which identified the NMLA fighters as Tuareg rebels who seized Gao back in March.
MUJAO spokesman Adnan Abu Walid Sahraoui told reporters the group had "seized the governor's palace and the residence of NMLA secretary-general Bilal Ag Acherif, who fled with his soldiers." A second source added that Ag Acherif was wounded and "hurriedly" evacuated to a neighboring country.
The northern half of Mali comprises an area about the size of France, and according to the Shavei Israel organization, there are approximately 1,000 people with alleged Jewish roots who still remain in the country.
In 1492, when Askia Muhammed came to power in the previously tolerant region of Timbuktu, he decreed that Jews must convert to Islam or leave, and Judaism became illegal in Mali as it did in Spain.