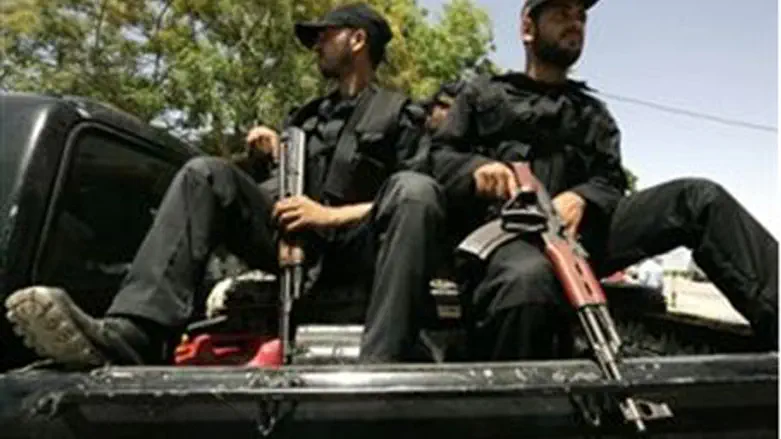 Hamas in Gaza
Israel news photo: Flash 90
Hamas was quick to blame the Israeli Mossad spy agency for the death of its member in Syria, AFP reported.
A senior member of Hamas told AFP that Kamal Hussein Ranaja was killed Wednesday in a suburb of the Syrian capital Damascus, adding that the group suspected Israel's spy agency of being behind the attack.
"A group of people entered his home in Qudsaya ... where he was liquidated," the official, who spoke on condition of anonymity, said. "According to our information, Mossad was behind the assassination."
The official confirmed that Ranaja was one of the deputies of Mahmoud Al-Mabhouh, a senior Hamas member who was found dead in a Dubai hotel room in 2010. Mabhouh's death was widely blamed on Israel's Mossad spy agency, which never confirmed or denied involvement. 
Earlier, Hamas politburo member Izzat al-Rishq announced Ranaja's death on his Facebook page, saying that Hamas will investigate the circumstances that led to the murder.
Despite previously being close allies, there has been a rift between Hamas and the Syrian regime ever since the uprising against President Bashar Assad began. Reports surfaced as early as last May that Hamas is moving its headquarters from Damascus to Egypt and the terror group is strengthening itself in the Sinai.
Mabhouh's death in Dubai recently made headlines again when a French-Israeli filmmaker announced he is producing a spy thriller loosely based on 2010 the assassination. The movie will star Israeli supermodel Bar Rafaeli.
The movie, titled "Kidon" (Bayonet) for the Mossad's supposed black operations unit, adds a plot twist in which a gang of criminals murder al-Mabhouh in an attempt to frame Israel's Mossad spy agency.
Refaeli plays Einav Schwartz, an Israeli femme fatale whose role is to lure al-Mabhouh into the assassins' trap with her feminine wiles.
Mabhouh's relatives said they will seek to block the release of the movie. Al-Mabhouh's cousin, Ahmed, recently told AP that the Israeli movie is a "Zionist conspiracy" to defame his cousin.