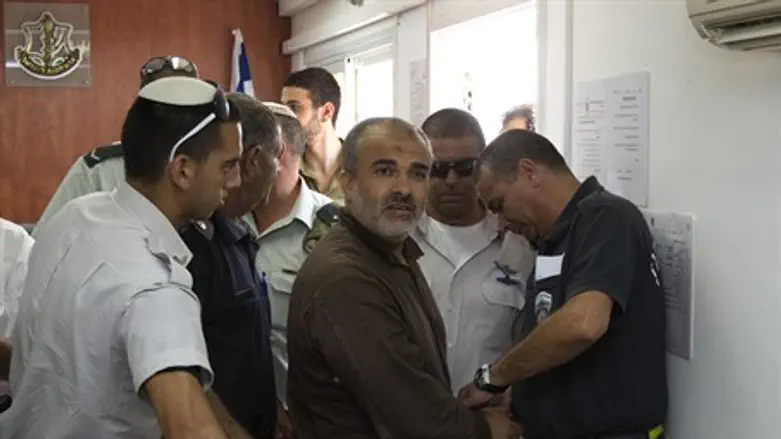 Ibrahim Hamad in court
Reuters
An Israeli military court ruled on Wednesday that Ibrahim Hamad, the former commander of Hamas' military wing in the Palestinian Authority-controlled areas of Judea and Samaria, is guilty of the murder of 46 Israelis.
According to a report on Channel 2 News, Hamad was convicted of involvement in a series of suicide terror attacks. These include an attack at the Sheffield Club in Rishon Letzion which killed six Israelis, a suicide attack at Café Moment in Jerusalem which killed 12 people, an attack at the Ben Yehuda pedestrian mall in Jerusalem and an attack at the cafeteria of the Hebrew University in Jerusalem.
The report noted that Hamad was acquitted of involvement in an attempt to carry out an attack on the Tzavta Club in Tel Aviv in 2002. In its decision, the Court ruled that no evidence supporting Hamad's involvement in the attempted attack was presented.
Hamad reportedly renounced the military tribunal's ruling in his case, but was convicted anyway. His sentence will be handed out early next month, and he is expected to be sentenced to a series of life sentences.
Hamad, a 47-year-old member of Hamas, joined the terror group in the 1980s. He was imprisoned by the PA in the 1990s and was released in 2001. After his release, he ordered a series of lethal terror attacks.
Since 2006, Hamad has been detained in a military prison in Israel. He was captured after a lengthy manhunt.