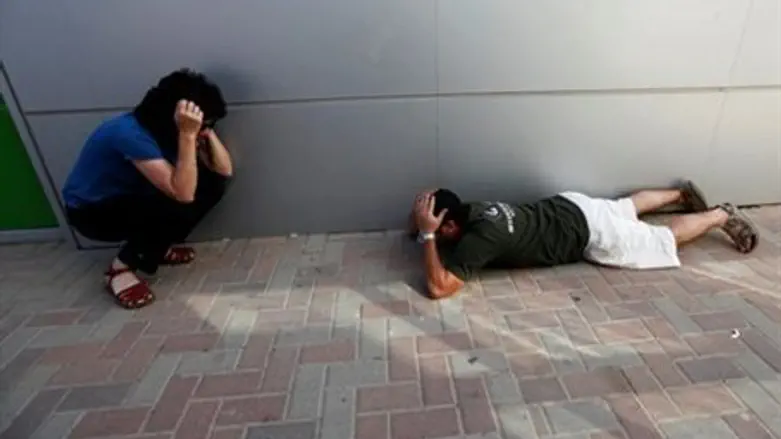 Children take cover from incoming rockets in
Reuters
"You hear the sounds of war everywhere," says a Western Negev resident as Gaza's missile war on Israel continues. Meanwhile, Home Front Minister Matan Vilnai maintains that "quiet in exchange for quiet is proving itself so far."
Terrorists in Hamas-controlled Gaza attacked the agricultural communities of the Eshkol Region with two more mortar shells overnight, causing no damage or physical injuries, but leaving area residents in shock.
The latest barrage is one of dozens of rounds of missile and mortar shell attacks in the 11-year-old Second Intifada, also known as the Oslo War, which broke out in September 2000 and escalated after the Israeli government ordered the expulsion of all Jews out of Gaza and the withdrawal of all soldiers in the summer of 2005.
One missile scored a direct hit on a home last week. A mother and her child miraculously escaped to a bomb shelter before the rocket exploded. Dozens of children also were saved when they boarded a school bus minutes before a missile struck their bus stop near a kibbutz.
Tazpit News Agency's Anat Silverman reported that Eshkol Regional Council  spokeswoman Ronit Minaker said, "This has been a very stressful time for us. You hear the sounds of war everywhere, and there is this feeling of constant pressure on your mind and in your body. You're always watching yourself, thinking where you will take cover the next time the siren goes off.
"Not everyone here has a bomb shelter. The worst is for the families. There are parents who lie on top of their children to protect them when the siren sounds."
Mainstream news agencies usually report only that the missile attacks on the agricultural region of the Western Negev explode "harmlessly" in open areas, neglecting to mention that hundreds of people have been hospitalized the past several years for shock and trauma.
Minor injuries also are usually not reported. Tazpit stated that a kibbutz farmer, Max Yadger, was plowing his fields a few hundred feet from the Gaza security fence when an Arab terrorist fired at him, hitting the glass around the cab of the tractor and causing a light scratch on his face.
"I crawled down from the tractor and hid behind the big wheel for protection, waiting for 15 minutes until IDF troops came get me," Yadgar said. "It was a very scary experience and I'm still not completely past it. I took a few days off and time has been the best medicine so far. I went to a synagogue and prayed. All I have is a scratch on my face from this attack, but inside I'm rattled."
With the return to relative calm Sunday, Home Front Defense Minister Vilnai told IDF Army Radio that the security situation is complicated. Egypt has brokered another ceasefire with Hamas, which has had difficulty controlling rival terrorists.
He said the government does not want to escalate the fragile situation.
The uneasy quiet may erupt later Sunday, depending on Hamas' reaction to the announcement in Egypt of final election results and if the next president will be from the Muslim Brotherhood party, which spawned the Hamas terrorists movement decades ago.
Israel also wants to avoid a large-scale counterterrorist operation while Russian President Vladimir Putin visits this week.