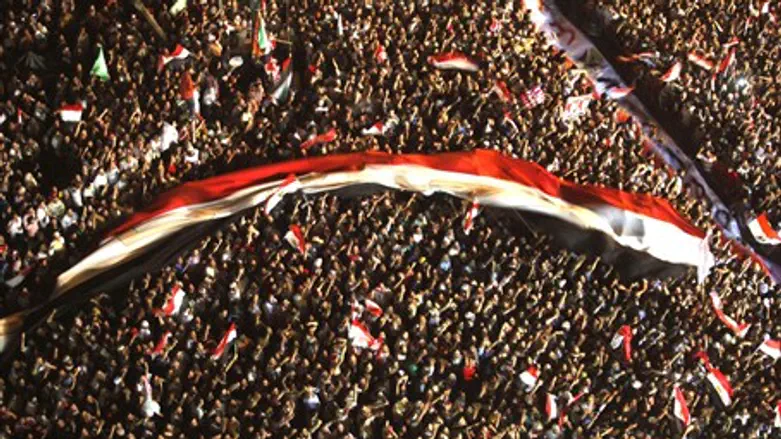 Supporters of Muslim Brotherhood demonstrate
Reuters
The Muslim Brotherhood expects its anticipated presidential election win to be respected, its candidate Mohammed Morsi said on Friday.
AFP reported as that the comments were made as the group's supporters packed Cairo's Tahrir Square to pressure Egypt's ruling military.
Morsi said the Brotherhood wants neither "confrontation nor violence" as the country nervously awaits the official result of the divisive June 16-17 poll run-off.
"There will be no confrontation or violence or attempts to shake the stability of this country," he was quoted by AFP as having said. "The protection of the nation is our highest goal, (including) the protection of its institutions, public and private property."
"We expect that the result will truly reflect the popular will, which we all know," said Morsi, adding that the thousands of protesters in Tahrir Square were there to "guarantee that will" is respected.
Both Morsi and his challenger, former Prime Minister Ahmed Shafiq, have claimed victory in the election.
Morsi spoke after the ruling military warned that it would deal "firmly" with any attempt to harm the public interest as thousands of people packed Cairo's Tahrir Square accusing it of a power grab.
"Protecting the status of state institutions is a national responsibility for all. Any attack on them threatens the stability and national security of Egypt," said a SCAF statement read on state television and quoted by AFP.
"Any attempts to harm public or private interests will be confronted with utmost firmness and strength by the police and armed forces within the law," the statement added.
On Thursday, Shafiq repeated his claim of victory, accusing the Muslim Brotherhood of "playing games" to put pressure on election authorities before announcement of the official results.
He also accused the group of striking "backdoor deals" with outside powers to sway the results and urged world capitals not to interfere.
Unconfirmed reports on Friday said that Egypt's electoral body is set to announce that Shafiq is the country's new president on Sunday.
Egypt's election commission had been scheduled to announce the results of the runoff on Thursday, but delayed the announcement as it was looking into appeals from lawyers of both candidates into alleged campaign violations and disputed vote counting.
The commission said it won't release the results till at least the weekend, and possibly even later.
(Arutz Sheva's North American Desk is keeping you updated until the start of Shabbat in New York. The time posted automatically on all Arutz Sheva articles, however, is Israeli time.)