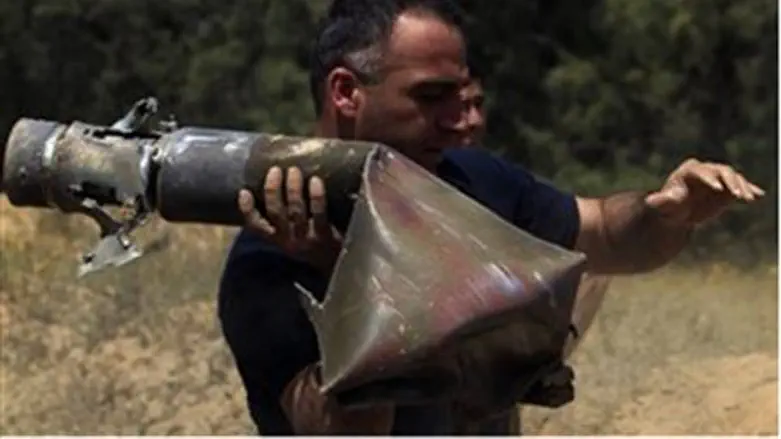 Kassam rocket (archive)
Israel news photo: Flash 90
Terrorists from Hamas-controlled Gaza continued on Friday evening to violate a 'ceasefire' that was declared on Wednesday and fired rockets into southern Israel.
Three rockets were fired from Gaza shortly before 11:00 p.m. local time. Two of them exploded in the Eshkol Regional Council and the third exploded in the Hof Ashkelon Regional Council.
All three rockets exploded in open areas, causing no physical injuries or property damage. Earlier on Friday evening, a Qassam rocket exploded in an open area of the Sdot Negev Regional Council. There were no physical injuries or damage.
The IAF responded to the latest attacks and struck the terrorist squad immediately after it launched the rockets. The IDF Spokesperson's Unit said that a hit was identified.
It was the IAF's second airstrike on Friday after IAF aircraft targeted a terrorist squad that was preparing to fire a rocket at Israel from central Gaza on Friday afternoon.
Medics in Gaza told AFP that the airstrike killed one person and wounded two others. They named the dead man as Basel Ahmad, 29.
More than 130 rockets have hit Israel this past week. Gaza's terrorist rulers declared a "cease-fire" on Wednesday night, saying they were committed to stop this round of confrontation "in response to the Egyptian efforts to try and stop the aggression on our people."
Hamas claimed that no rockets would be fired "as long as (Israel) commits to stopping its crimes," but that truce did not last long and two Grad missiles were fired at Ashkelon in the wee hours of the morning. Five short-range Qassam rockets were launched in an attack on the Eshkol Regional Council district at about 7:30 a.m.
Terrorists launched another rocket attack on southern Israel Thursday afternoon, aiming at the Sha'ar HaNegev district.
Ashkelon Councilor Shimon Cohen told Arutz Sheva on Friday that things will not calm down unless the IDF bombs Gaza.
(Arutz Sheva's North American Desk is keeping you updated until the start of Shabbat in New York. The time posted automatically on all Arutz Sheva articles, however, is Israeli time.)