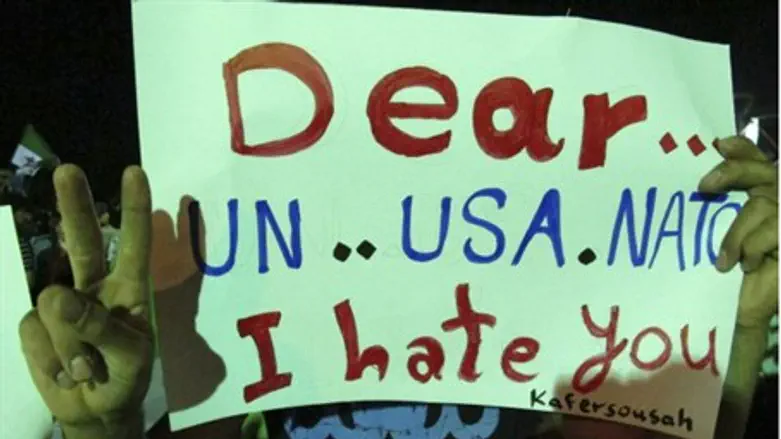 Sign at Syrian protest against Assad
Reuters
Speaking in the House of Commons, Foreign Secretary William Hague said Tuesday that the Russian ship carrying a consignment of refurbished attack helicopters to Syria had turned back to Russia.
The Telegraph website reported that the MV Alaed, a Russian-operated cargo vessel, had been sailing through the North Sea after allegedly picking up a consignment of munitions and MI25 helicopters – known as "flying tanks" – from the Russian port of Kaliningrad on the Baltic Sea.
"The political situation in Syria is dire. All parties must now implement the Annan plan," Hague said. "The international community needs to come together to compel the regime to do so... We stand ready to pursue robust action in the United Nations Security Council."
Earlier Tuesday, the Telegraph reported that British marine insurer Standard Club said it had withdrawn coverage from all the ships owned by Femco, a Russian cargo line, including the MV Alaed.
"We were made aware of the allegations that the Alaed was carrying munitions destined for Syria," the company said in a statement. "We have already informed the ship owner that their insurance cover ceased automatically in view of the nature of the voyage."
Two days ago, the Telegraph reported that the United States had asked Britain to use sanctions legislation to force the insurer to withdraw its cover from the Russian ship.