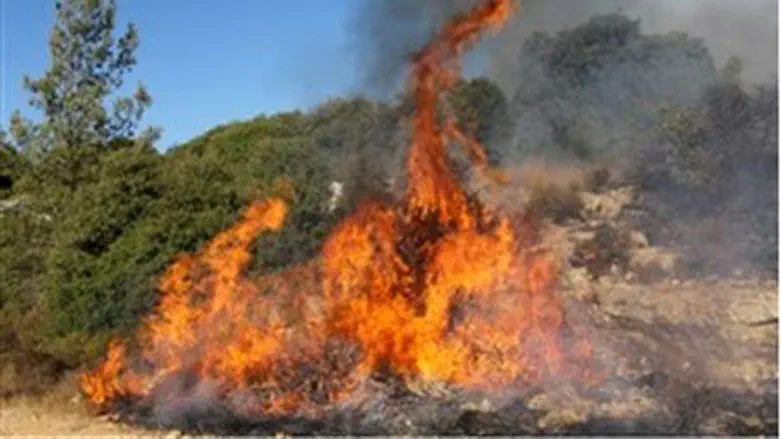 Fire (illustrative)
Israel news photo: Flash 90
Twelve people have suffered smoke inhalation in a fire on Jerusalem's Mount Scopus in an open field near an IDF army base.
Two of them were more serious cases. All were rushed to Hadassah Medical Center on Mount Scopus for medical treatment.
After the fire was extinguished, police said a preliminary investigation indicated the fire was started by firecrackers thrown by Arab youths. Police added that the area was being searched.
A second fire was also ignited in Jerusalem Sunday as well, and began burning in the Shalom Forest next to the promenade area in the Armon Hanatziv neighborhood overlooking the Old City.
Three firefighting crews have been working to extinguish the blaze. No injuries were reported in that incident.
A fire broke out last Thursday night in a number of locations in the same neighborhood, the latest in a series of apparent arsons that have occurred in the area over the past two weeks.
A chain of fires erupted a week ago in at least five neighborhoods in the southeastern section of the capital.
All of the fires were started in areas that were restored to the city in the 1967 Six Day War and which are claimed by disgruntled Palestinian Authority Arabs who insist on designating these areas for the capital of an independent new Arab state.
Firefighters are working to bring both of the fires under control.