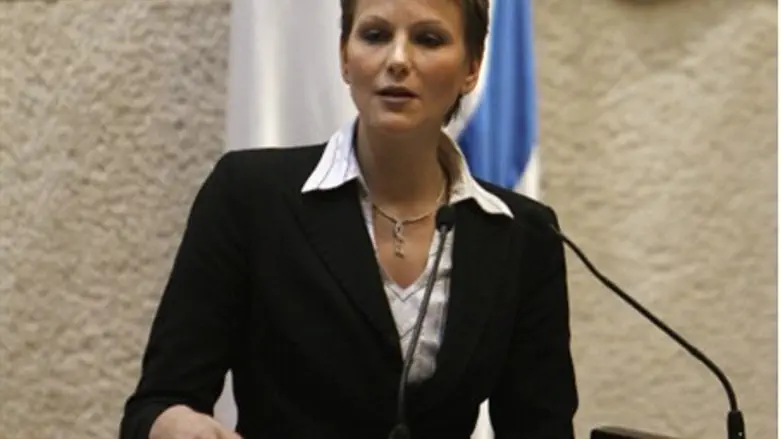 MK Anastasia Michaeli
Israel news photo: Flash 90
MK Anastassia Michaeli (Yisrael Beytenu) said Sunday that her children were exposed to homosexuality-promoting content on Channel 10 – Israel's second advertisement-funded TV channel. Speaking during a debate on sexual harassment in the Knesset's Committee for the Advancement of Women, she also tried to offer an explanation of why some people become homosexual.
"To my discomfort, when I turn on Channel 10 I see supposed entertainment programs showing how nice it is to be a homosexual, and in a re-run they interview his mother about how sad she is and how she divorced her husband and her son is a homosexual," she said. "I want to ask – what did the son undergo as a small child, when he was three years old, from his father, and why did they divorce?"
MK Michaeli, a convert to Judaism who has eight children, presented her theory on the origin of homosexuality: "I think that most homosexuals are guys who undergo a very traumatic experience of sexual harassment from a very young age, and it gets worse with time."
MK Michaeli added: "We are here in the Committee for the Advancement of Women. It is time to establish a Committee for the Advancement of the Family in the Knesset in order to study in depth why there is so much sexual harassment. Why does Channel 10 has the right to broadcast content like that, in which my children, on their way to the kitchen, hear that it is fun and nice [for boys] to dance and put on makeup and wear skirts?"  
"We should cooperate with those homosexuals because they are suffering. In the end they wind up committing suicide at age 40, and they are the same guys who want to be women and they are indeed women," she concluded her somewhat rambling remarks. "There should be more consciousness of this. There should be a campaign with professionals and psychologists."
Channel 10 said in response: "We are happy, of course, that MK Michaeli and her children regularly watch Channel 10, but we do not know what she is referring to exactly. Channel 10 by definition believes in equal rights for all and giving proper expression to all parts of the population, minorities and the periphery."
The liberal mainstream media had a field day with Michaeli's comments, presenting her as primitive and reminding their audience of her previous run-in with political correctness, in which she spilled a glass of water on an Arab MK. 
Yisrael Beytenu issued a statement in which it said that MK Michaeli's statements represent only her and do not reflect the party's views.
Since the establishment of the first commercial TV channel in 1993, Israel's media has gradually shaken off any commitment it had to family values, and regularly shows obscene and explicit content on hours in which children view television. Israel's secular pop-culture scene is rife with content that promotes homosexuality as a good thing.