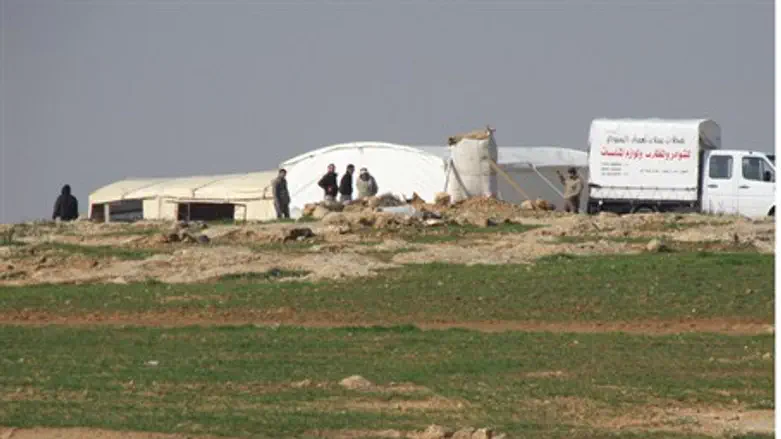 Illegal Arab construction near Susya
Regavim
The Civil Administration handed out demolition orders on Tuesday against 52 buildings and tents in the Palestinian Authority Arab outpost of Susya, which lies between Kiryat Arba-Hevron and Arad, according to a report in Haaretz.
The report said that the structures to be demolished include a clinic, a kindergarten and a solar power structure which is the only electricity provider in the area.
The demolition orders were issued by the Supreme Court following a petition filed by Regavim, an NGO watchdog group for Jewish national property rights, against the massive illegal Arab construction taking place in Susya.
The judges, headed by President Asher Grunis, along with Justice Hanan Meltzer and newly appointed Justice Daphna Barak Erez, recently held an urgent hearing over the petition, after Ovad Arad, director of the Judea and Samaria section of the Regavim, documented the Arabs continuing to build illegally.
The judges expressed their anger and Justice Meltzer opined against the continued illegal construction by Arabs on state-owned lands, even after the filing of the petition. The judges then issued a temporary injunction, prohibiting the Arabs to continue to build in the area.
Regavim's attorney, Amir Fisher, recently wondered in a conversation with Arutz Sheva why is it that the Civil Administration knows how to enforce the law when it comes to Jews but does not do the same when it comes to Arabs.
"Palestinians everywhere are building freely without obtaining building permits and yet the Civil Administration ignores this," said Fisher. "They built near an Arab outpost near Susya, on state land. Not only did the Civil Administration not remove them, they ordered local Jewish farmers to leave the area so as to prevent friction."
Founded in 2006, Regavim seeks to "prevent foreign elements from taking over the Jewish People's territorial resources," but its permit is under development.
Aiming to see equal enforcement of Israeli law in Judea and Samaria, Regavim serves as a counter-weight to the numerous left-wing and Arab organizations seeking the destruction of Jewish communities.
Susya's residents have claimed that Arad has struck fear into them.
"He comes with small weapons and his camera, sometimes with armed forces, sometimes with settlers," Susya resident Nasser Nawaja told the Bethlehem-based Ma'an news agency of Arad last month.
"Wherever they find a Palestinian home, in Israel or Jerusalem or the West Bank, they ask the court to demolish it," Nawaja complained.
MK Dov Khenin, who chairs the communist-based Hadash party, criticized the injunction against Susya, saying, "The Susya case is one example of the ongoing injustice of deepening the occupation through planning mechanisms. The Israeli government has a discriminatory and racist policy in Area C which violates international law. While new settlements are being built freely and with government support, the Palestinian villages suffer from a policy of strangulation and destruction, which is aimed at pushing them out of the area so it can be annexed."
He added, "The government wants to establish facts on the ground by avoiding planning and by excessive demolition, which would thwart the feasibility of the establishment of a Palestinian state as part of a peace agreement."