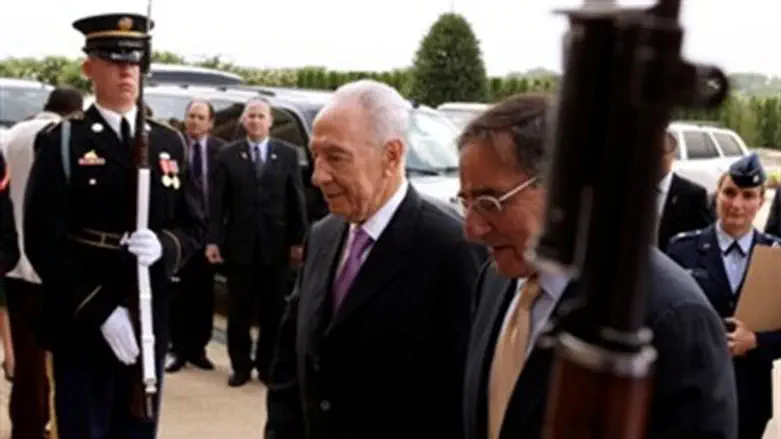 Panetta welcomes Peres with military recepti
Reuters
The world must not let Iran take control of the Middle East, President Shimon Peres told U.S. Secretary of Defense Leon Panetta at the Pentagon Monday.
"I respect the diplomatic process, but the clock is ticking and Iran continues to race towards manufacturing a nuclear weapon while it also continues to lie and deceive," the president warned.  He was quoted by Israel's Channel 2 television.
"It is a country of ayatollahs, and Iran is the only country in the Middle East that has imperialistic desires in the name of religion. No responsible country in the world can accept a situation in which the Middle East will be sacrificed for Iranian hegemony."
While rejecting the ability of the "diplomatic process" to stop Iran, President Peres reiterated his belief in talks between Israel and the Palestinian Authority. He told the Secretary of defense that Prime Minister Binyamin Netanyahu's new national unity coalition "definitely will help improve the chances for peace." He again said that PA Chairman Mahmoud Abbas is "a serious partner for negotiations."
PA officials said this week that it is open for "talks" but not for negotiations because Israel must accept its conditions for the creation of the Palestinian Authority as a new Arab country that it wants established within Israel's borders.
Panetta did not publicly respond to President Peres' comments on Iran and limited his response to reminding him of the "strong relationship" between the United States and Israel and that the U.S. Army's objective is "to ensure a better future for our children."
He also congratulated Peres on his receiving the Medal of Freedom from President Barack Obama, who is scheduled to present the award on Wednesday.